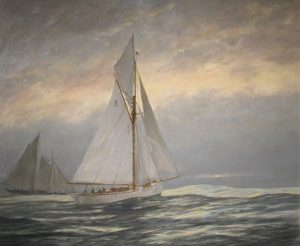 Tally Ho and La Goleta approaching the Fastnet Rock, by David Cobb RSMA
Readers may know that I am implicated in The Albert Strange Association, the fan club for the Victorian & Edwardian artist, yacht designer, sailor and writer. Over the years the ASA has worked to preserve the output and memory of this remarkable man, and today we face our greatest challenge—and you can help.
In 1909 the trawler fleet owner Charles Hellyer (Viola was one of his vessels) commissioned a 47ft cutter Betty to be used for cruising and fishing, and she found fame in 1927, under new ownership, and as Tally Ho—by winning the Fastnet Race, in conditions which caused all but two boats to retire. She went on to a life of family cruising, spent some time in the south Pacific where she was wrecked on a reef, ingeniously recovered and repaired, and ended her career, improbably, as a longline fishing vessel, operating under engine only, out of Brookings Harbor in Oregon on the US west coast.