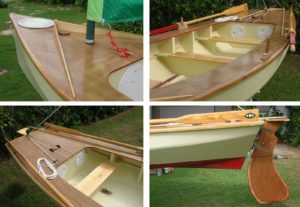 In 2012 I discovered The Invisible Workshop, the boatbuilding and sailing blog run by Ben Crawshaw from his home on the Catalan coast of Spain, featuring Onawind Blue, his self-built Light Trow design by Gavin Atkin. His blog has been quiet of late but it's intelligent, well-written and well-photographed and it's well worth your time. I suggested to Ben we could make an attractive book of it, he agreed, and Catalan Castaway was born. The gestation was a challenge as a blog does not easily lend itself to book form, but I felt we had cracked it when we went to press in the spring of 2013. But an unsuspected hurdle lay in wait.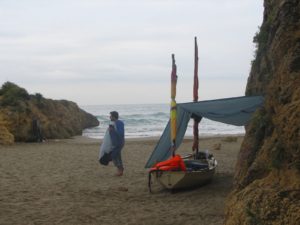 This was an early foray into full colour for me, and I struggled to find an affordable printer in the UK. Although printing in China was affordable, the payment terms would give me a cash-flow problem. Eventually I realised why UK prices were so high in comparison: all the printers I tried were going to print it as an A4 book and simply trim off half the paper. I could not find anyone to print an A5 landscape book more sensibly. So it occurred to me I could print it more economically '2-up' as an A4 book and chop it in half, and a London print finishing firm assured me they could make the cut if I allowed 7mm for the cutting and trimming.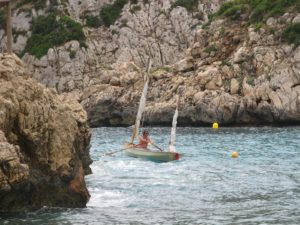 In due course the A4-sized doubled books arrived at the finishers and I was there to witness the process and guard my investment. I was surprised to find the books would be guillotined, not sawn, and was more than dismayed to see that the machine wrenched the spines of the unclamped half of each stack of books so badly as to make them unsaleable. After losing a couple of dozen copies I yelled 'Stop!' The firm's earlier assurance of their capability proved mistaken, and they could only advise me to scrap half of the books. Easy for them to say, having no 'skin in the game'. There had to be a better way out of this.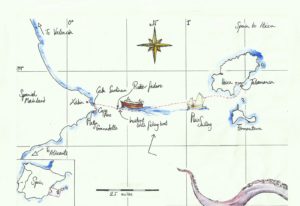 Across the yard from the finishers was a joinery company. I asked them to try cutting the books on their table saw. It cut them alright but left both edges too ragged for a clean trim to be achieved. I piled the uncut books into the car and resolved to rescue the project somehow. There followed an experiment with an electric flooring saw in my back garden. Same result, plus a lot of noise, and a mess reminiscent of Dante's Peak. Finally I visited a local bespoke joinery firm in Forest Hill, London, where I live. Within 24 hours they had built a special jig, and sawed all the books apart neatly on their table saw, for £200. A quick trip back to the finishers to trim the cut edges, and the job was saved. The heroes of the hour were artisans Colin and Tom of Havelock 11, at 11 Havelock Walk, SE23, who immediately got the far more valuable job of replacing our kitchen worktops in solid oak. I highly recommend them.
So how did the book do? You stayed away in droves! — Yet those who have read it tell me they love it, and Tom Cunliffe dedicated three whole pages of the January 2015 Yachting World, in his 'Great Seamanship' series, to a review and an extract from it, writing:
Catalan Castaway by Ben Crawshaw is described by his publisher, Lodestar Books, as 'as sail-and-oar story'. This is true, but the small, beautifully illustrated volume holds so much more than this bald statement suggests.

Crawshaw is a young family man of today who felt the call of a boat of his own. Big budgets and grand plans were not in his lexicon, so he took on a design by Gavin Atkin for a sweet-sheered open boat called a Light Trow and built her for himself. Not a shipwright by any stretch of the name, and without any sort of a yard, he used the simple tools he had and did a great job. Onawind Blue is 15ft 6in long with a 4ft beam. With the daggerboard up, her ketch-rigged hull floats on a heavy dew.

The photos of Onawind Blue's beach launch on the Catalan coast indicate beyond doubt that this is a popular, well-loved man. The early part of the book is taken up with lively descriptions of coasting and camping from idyllic bay to bay, but Crawshaw really gets into his stride when he plucks up the courage for the 60-mile offshore passage to Ibiza.

The 21st Century is full of people who want to be the biggest, the first, the greatest and every other superlative one can think of. Crawshaw isn't like that. He is at peace in his own skin with nothing to prove. By keeping his ambitions modest, he achieves the nearest thing to perfect freedom modern Western society has to offer: a boat built by his own hand, well-found, paid-for and ready for adventure.

Ben Crawshaw's blog has been running during the project. Read this account as he starts out at anchor, then visit theinvisibleworkshop. It might change your point of view.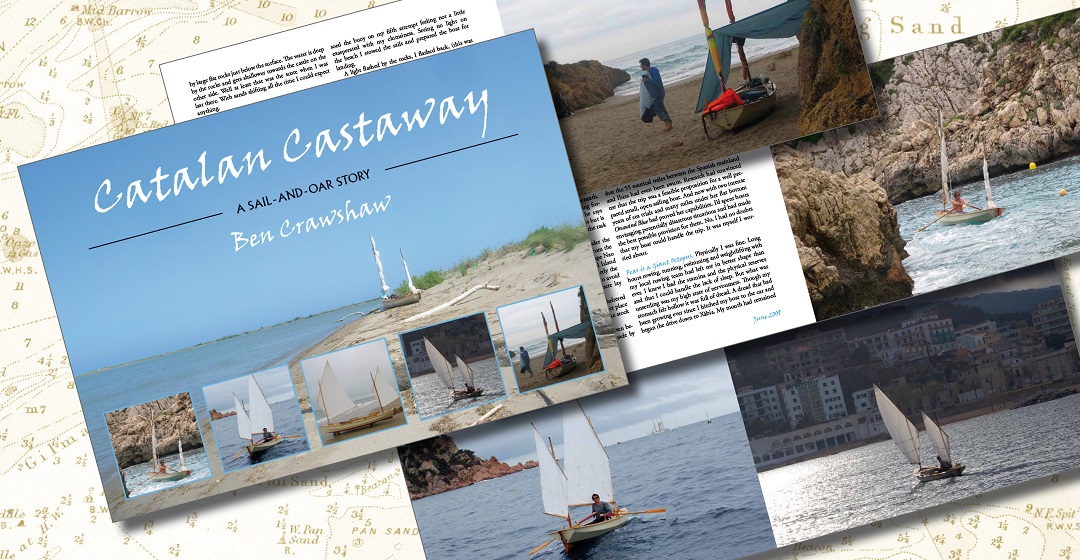 I have long since reduced the price of Catalan Castaway from £15 to £10—a 'no-brainer', I think the expression is—and that's post-free in the UK.