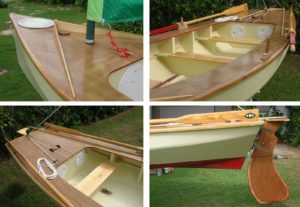 In 2012 I dis­covered The Invis­ible Work­shop, the boat­build­ing and sail­ing blog run by Ben Crawshaw from his home on the Catalan coast of Spain, fea­tur­ing Onawind Blue, his self-built Light Trow design by Gavin Atkin. His blog has been quiet of late but it's intel­li­gent, well-writ­ten and well-pho­to­graphed and it's well worth your time. I sug­ges­ted to Ben we could make an attract­ive book of it, he agreed, and Catalan Cast­away was born. The gest­a­tion was a chal­lenge as a blog does not eas­ily lend itself to book form, but I felt we had cracked it when we went to press in the spring of 2013. But an unsus­pec­ted hurdle lay in wait.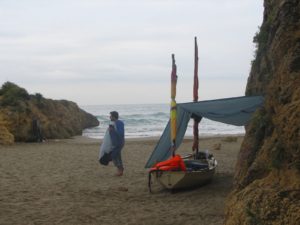 This was an early foray into full col­our for me, and I struggled to find an afford­able print­er in the UK. Although print­ing in China was afford­able, the pay­ment terms would give me a cash-flow prob­lem. Even­tu­ally I real­ised why UK prices were so high in com­par­is­on: all the print­ers I tried were going to print it as an A4 book and simply trim off half the paper. I could not find any­one to print an A5 land­scape book more sens­ibly. So it occurred to me I could print it more eco­nom­ic­ally '2-up' as an A4 book and chop it in half, and a Lon­don print fin­ish­ing firm assured me they could make the cut if I allowed 7mm for the cut­ting and trim­ming.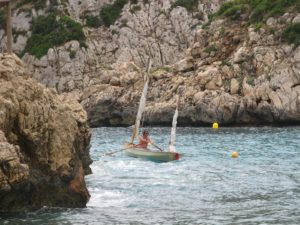 In due course the A4-sized doubled books arrived at the fin­ish­ers and I was there to wit­ness the pro­cess and guard my invest­ment. I was sur­prised to find the books would be guil­lotined, not sawn, and was more than dis­mayed to see that the machine wrenched the spines of the unclamped half of each stack of books so badly as to make them unsale­able. After los­ing a couple of dozen cop­ies I yelled 'Stop!' The firm's earli­er assur­ance of their cap­ab­il­ity proved mis­taken, and they could only advise me to scrap half of the books. Easy for them to say, hav­ing no 'skin in the game'. There had to be a bet­ter way out of this.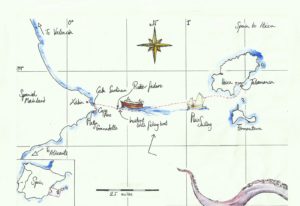 Across the yard from the fin­ish­ers was a join­ery com­pany. I asked them to try cut­ting the books on their table saw. It cut them alright but left both edges too ragged for a clean trim to be achieved. I piled the uncut books into the car and resolved to res­cue the pro­ject some­how. There fol­lowed an exper­i­ment with an elec­tric floor­ing saw in my back garden. Same res­ult, plus a lot of noise, and a mess remin­is­cent of Dante's Peak. Finally I vis­ited a local bespoke join­ery firm in Forest Hill, Lon­don, where I live. With­in 24 hours they had built a spe­cial jig, and sawed all the books apart neatly on their table saw, for £200. A quick trip back to the fin­ish­ers to trim the cut edges, and the job was saved. The her­oes of the hour were artis­ans Colin and Tom of Have­lock 11, at 11 Have­lock Walk, SE23, who imme­di­ately got the far more valu­able job of repla­cing our kit­chen work­tops in solid oak. I highly recom­mend them.
So how did the book do? You stayed away in droves! — Yet those who have read it tell me they love it, and Tom Cun­liffe ded­ic­ated three whole pages of the Janu­ary 2015 Yacht­ing World, in his 'Great Seaman­ship' series, to a review and an extract from it, writ­ing:
Catalan Cast­away by Ben Crawshaw is described by his pub­lish­er, Lode­star Books, as 'as sail-and-oar story'. This is true, but the small, beau­ti­fully illus­trated volume holds so much more than this bald state­ment sug­gests.

Crawshaw is a young fam­ily man of today who felt the call of a boat of his own. Big budgets and grand plans were not in his lex­icon, so he took on a design by Gavin Atkin for a sweet-sheered open boat called a Light Trow and built her for him­self. Not a ship­wright by any stretch of the name, and without any sort of a yard, he used the simple tools he had and did a great job. Onawind Blue is 15ft 6in long with a 4ft beam. With the dag­ger­board up, her ketch-rigged hull floats on a heavy dew.

The pho­tos of Onawind Blue's beach launch on the Catalan coast indic­ate bey­ond doubt that this is a pop­u­lar, well-loved man. The early part of the book is taken up with lively descrip­tions of coast­ing and camp­ing from idyll­ic bay to bay, but Crawshaw really gets into his stride when he plucks up the cour­age for the 60-mile off­shore pas­sage to Ibiza.

The 21st Cen­tury is full of people who want to be the biggest, the first, the greatest and every other super­lat­ive one can think of. Crawshaw isn't like that. He is at peace in his own skin with noth­ing to prove. By keep­ing his ambi­tions mod­est, he achieves the nearest thing to per­fect free­dom mod­ern West­ern soci­ety has to offer: a boat built by his own hand, well-found, paid-for and ready for adven­ture.

Ben Crawshaw's blog has been run­ning dur­ing the pro­ject. Read this account as he starts out at anchor, then visit thein­vis­ible­work­shop. It might change your point of view.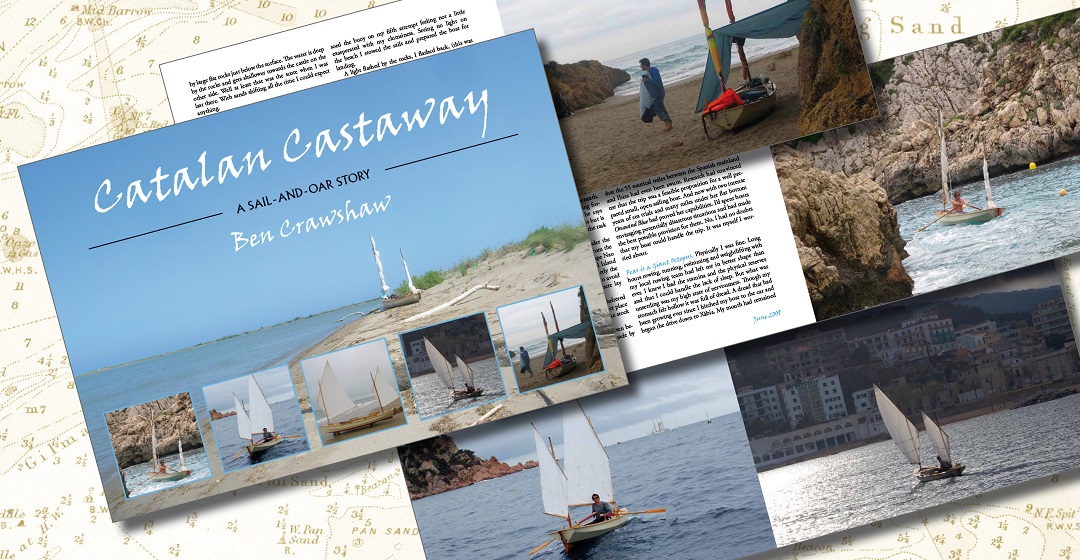 I have long since reduced the price of Catalan Cast­away from £15 to £10—a 'no-brain­er', I think the expres­sion is—and that's post-free in the UK.