[Sea-Coun­try is now out of print but we thought you'd still enjoy this extract]
Tony Smith is now the keep­er of Charlie Stock's game little 16-foot gaff cut­ter Shoal Waters, and has made it his busi­ness to take her the length and breadth of the Thames estu­ary, and into nooks and cran­nies most of us have never heard of, let alone vis­ited. One such is Lion Creek: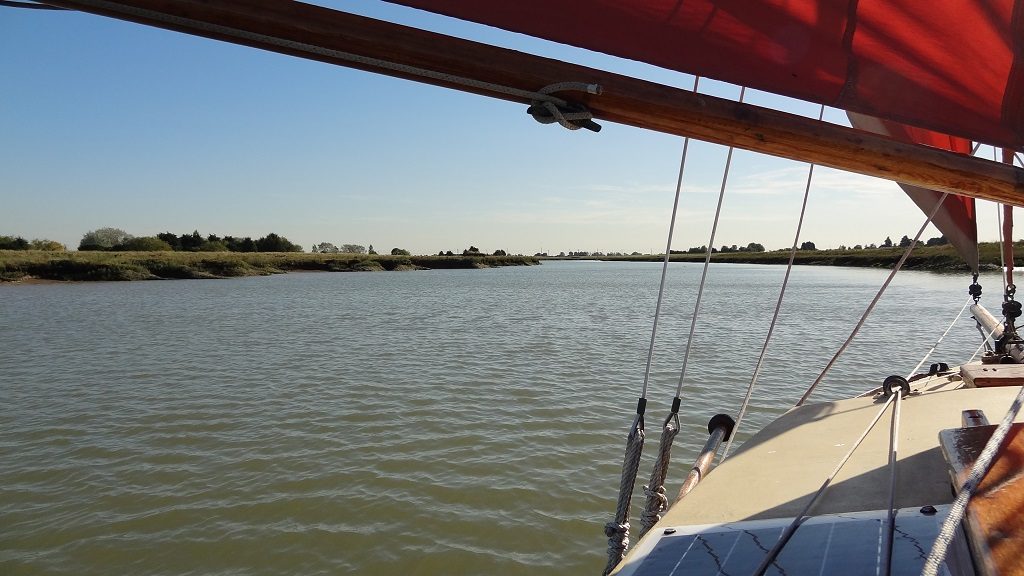 I took a deep breath and my shoulders fell as I exhaled. I had cleared the last of the swinging moor­ings while passing through Burnham on Crouch and was able to free off a little. As I did so 500 deep water moor­ings at Essex Mar­ina passed close-by to port, while Burnham Yacht Har­bour, home to two RNLI boats, was oppos­ite. Just a few more moor­ings in mid-river to pass and I was deep inland again, at Balt­ic Wharf, where ships still call reg­u­larly from north­ern Europe to deliv­er steel or tim­ber. Just west of the wharf is an insig­ni­fic­ant-look­ing open­ing in the marsh; enter it and you are in Lion Creek, a whole micro-world on its own, and one I had come here to explore. Across the river was neigh­bour­ing Creek­sea, on the north shore, the place look­ing as pretty now as it has done for cen­tur­ies, with its old brick cot­tages and Tudor build­ings lead­ing down to the water, and the sail­ing club slip­way ori­gin­ally built in World War II to ser­vice RAF res­cue boats. Not much else appears to have changed in this little area of the Crouch that man­ages to retain a time­less feel.
It is said that dur­ing the 17th cen­tury Lord Mild­may, who was Keep­er of the Crown Jew­els under Charles I and who owned Creek­sea Place, a won­der­ful Tudor build­ing just up on the hill, was taken from here to the Tower of Lon­don for, with elev­en other state eld­ers, sign­ing the King's death war­rant, though it is also said he was later pardoned by Charles II.
I sailed around the Creek­sea Sail­ing Club moor­ings before look­ing back across the river and lin­ing up a trans­it route into Lion Creek's approx­im­ately 100 feet wide mouth, which was now facing oppos­ite and right beside Balt­ic Wharf on Wal­lasea Island. The creek is deeply cut with a good 15 feet of water in the gut if com­ing in on a high tide, and it has steep-shelving mud slopes that are marked 2.7 metres above chart datum on my Admir­alty chart, that can trap the unwary skip­per, and are topped with the green glory that is East Coast salt­marsh. This marsh abuts an encas­ing six-foot-high grassy sea wall cre­at­ing a creek haven that is a joy to sail in and one that slowly nar­rows the deep­er you enter, but with this west­erly wind per­sist­ing I ambled into the water­way on a beam reach, play­fully prob­ing the mar­gins as we went, pen­et­rat­ing inward until out of sight of the Crouch, and where I had to "ready about" a few times to round a west­ward bend that cam­ou­flaged a massively humped mud shoal that tried to claim us.
The banks of the creek were com­ing togeth­er now, embra­cing us fully. It was time to fold Shoal Waters' little rus­set brown wings and gently paddle the rest of the way up. The last few yards took us into a tight cut at Lion Wharf, where just a few jabs with the quant pole posi­tioned her; I anchored in five feet of water at 0843 to cook steamed kip­pers for break­fast, right beside a sol­it­ary wooden hut that is thought to be an old oyster shed. This is quite pos­sible as the creek, like many oth­ers in this area in the 19th cen­tury, was used for highly prof­it­able oyster farm­ing, and is pro­fusely inden­ted with hand-dug oyster pits along its salt­marsh banks.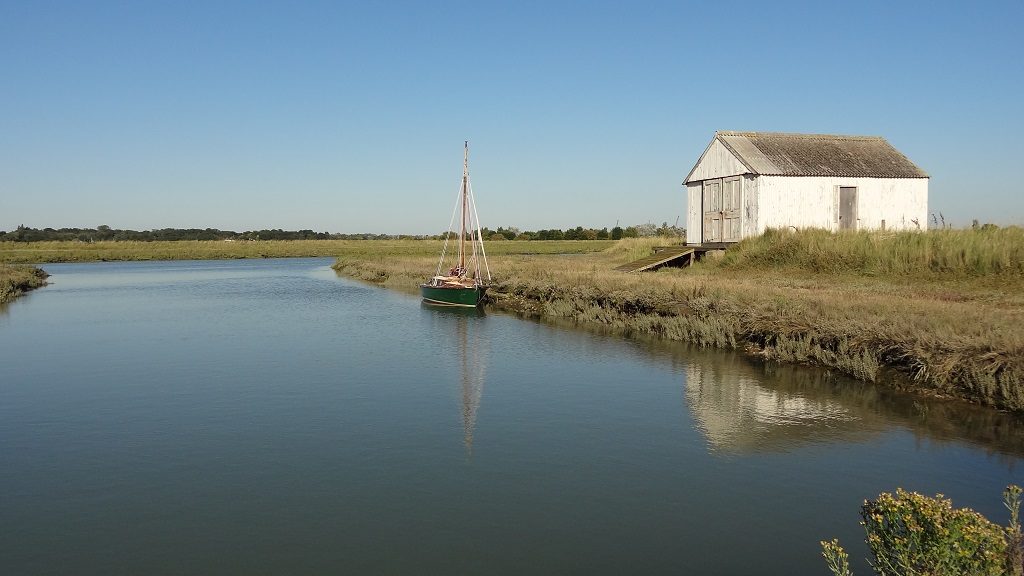 The wharf at the creek's head once had the traffic of many Thames sprit­sail barges dur­ing the hey­day of work­ing sail. Quite unique to Lion Creek today are the mys­ter­i­ous solid wooden blocks, of which I coun­ted 30, scattered all about on the top of the salt­ings or part-bur­ied in muddy rills off the main creek. Maybe they had broken free from a teth­er of con­nect­ing chains dur­ing some gale-blown night. Each block is approx­im­ately ten feet long by six feet wide and four feet deep and on closer inspec­tion has four steel air­tight drums encased with­in and held togeth­er by giant iron rods with large moor­ing rings. Their his­tory is worthy of note as they were some of thou­sands made for float­ing defence booms that spanned the mouth of the River Thames from Shoe­bury­ness in Essex to Min­ster in Kent, and other East Coast rivers, to thwart enemy incur­sion dur­ing WWII. Huge nets were hung from them to trap sub­mar­ines and some of the blocks had spikes on top to pre­vent ships going over the boom. They were sold off after the war and used as pon­toons and now resemble giant plant­ers, espe­cially those that have become over­grown with salt­marsh. How­ever they ended up here, these wooden blocks and many other man-made objects, such as wrecks or old docks, that I come across lend a dis­tinct charm to the for­got­ten and lonely back­wa­ters I explore.
Know­ing where to anchor in a creek when you come in at high water can be a haz­ard­ous busi­ness, so if I have not done a scout­ing visit on foot I always sound for­ward and aft for level ground, and sweep the cane under­neath the boat both sides as the water level drops to check for any pro­trud­ing stumps that could hole her. Where I had anchored for the night the bot­tom was flat and just per­fect for dry­ing out, and once the tide had left the creek it became the feast­ing-ground for cur­lews and terns; I climbed ashore to find wild mush­rooms as big as jam-jar lids grow­ing along the rim of the salt­ings.
Lion Creek was once named Canew­don Creek for it is sited in Canew­don Par­ish, at the foot of a belt of green land that rises west­ward to a steep hill­side behind which the even­ing sun sets. There Canew­don vil­lage is found with its ancient church from whose tower are some of the most far-reach­ing views across the Crouch val­ley and great­er Essex. Canew­don is a name which you could be for­giv­en for think­ing was derived from that great Dane, King Canute, who it is said came to this part of the coast in 1016, after his failed siege of Lon­don, to battle with the King of Eng­land, Edmund II, and tri­umph in the val­ley between Canew­don and Ash­ing­don hill. But it is thought to have derived from much earli­er Saxon mean­ings such as 'don' which meant a hill set­tle­ment.
The creek ends at Lion Wharf beside Creek­sea Ferry Road that con­nects the main­land to Wal­lasea Island and also blocks anoth­er cut to the east that would have joined Pagle­sham Creek, encirc­ling the Island. There is also a dam across the main body of the creek to the west in the form of the sea wall, bey­ond which the creek has become a fresh­wa­ter inland pool named Lion Creek Nature Reserve, a Site of Spe­cial Sci­entif­ic Interest. Old maps show the creek would have ori­gin­ally made its way west­ward through marsh­land where King Canute is thought to have made camp, before it enters the River Crouch again near South Fam­bridge.
Lion Creek is best explored a couple of hours around high water when it's pos­sible to get ashore. I even­tu­ally left at high water that same even­ing for the 25nm jour­ney back to my moor­ing, where I arrived safely the fol­low­ing day. Trip tally 50nm with an aver­age of 2.5kts made good under wind and tide alone.