My enthu­si­asm for boats began early. I grew up in an artist­ic fam­ily in the enchant­ing fish­ing vil­lage of Staithes, settled on many levels with­in immense cliffs on the rugged North Yorkshire coast some ten miles north­w­est of Whitby. Often, huge seas battered the houses and har­bour walls and ran up the main street.
All man­ner of things were influ­enced by the sea and fish­ing. Some houses were named after boats; Star of Hope Cottage, Confidence Cottage, Unity House, Blue Jacket House, Venus Cottage and Wavelet. Parts of boats were even used as build­ing mater­i­als. Visual delights were every­where. The warn­ing to KEE POUT was painted on the door of a fishermen's shed, and the paraphernalia of fish­ing gear cre­ated improb­able shapes. In the small tidal river lay the shapely bright-hued beach boats pecu­li­ar to north-east England.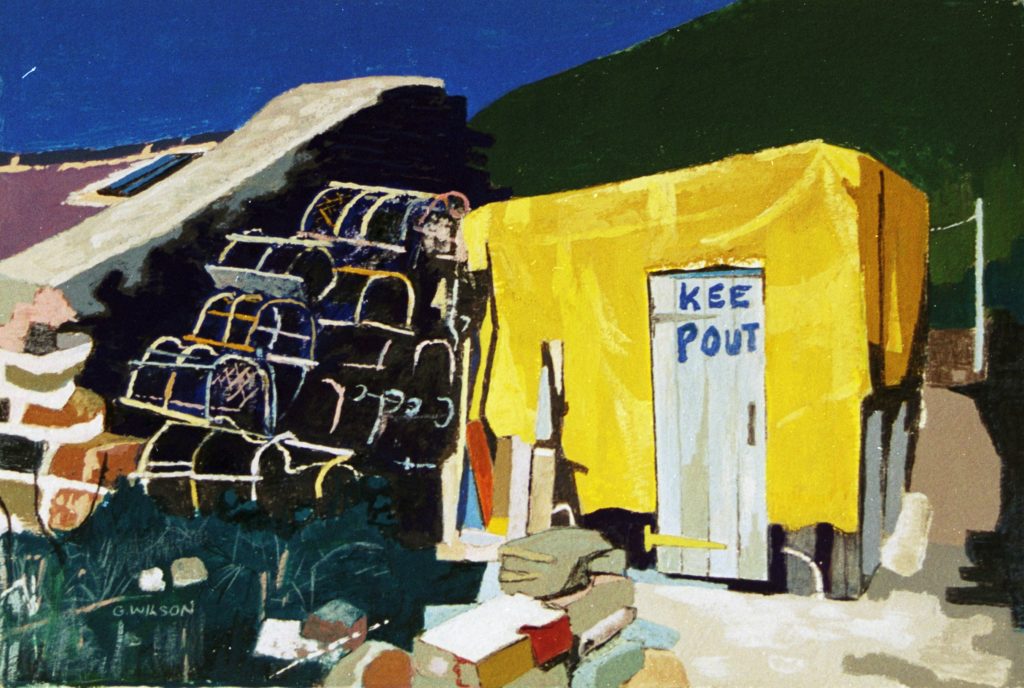 But our fam­ily boat was dif­fer­ent. The 26ft clinker-planked Bonaventure WY62 was built in Canada in 1946 as a ship's life­boat but was rejec­ted for that pur­pose by not being suf­fi­ciently full-bod­ied and roomy. I remem­ber mack­er­el fish­ing at sun­set with the sea like blue- and pink-shot taf­feta, and the lights of the Scottish her­ring fleet just begin­ning to show.
In Staithes I met my first English square-sterned cobles. With their com­plex and curi­ous hull form they were primar­ily beach boats designed for launch and recov­ery stern-to-shore through heavy break­ing surf, but they can also nego­ti­ate rollers and shal­low tur­bu­lent water when enter­ing or leav­ing unsheltered tidal har­bours and creeks. My par­tic­u­lar favour­ite was Golden Crown WY78, built in 1953 by William Clarkson (Whitby) Ltd to replace the earli­er coble Star of Hope WY174 which had been wrecked in the great North Sea storm of 31 January that year, when huge seas poun­ded Staithes and the Cod and Lobster pub was partly washed away.
Following vil­lage cus­tom when a new coble arrived, she was wel­comed by crowds of cheer­ing people lin­ing the water­front. Hand-bells were rung, parties were held, and cel­eb­rat­ory 'coble cake' was eaten. Measuring 30ft 5in with 8ft 6in beam, and powered by a Petter A.V.2M two-cyl­in­der, 10-horsepower, 1,500rpm water­cooled dies­el engine, Golden Crown was every inch a true coble, but I was fas­cin­ated by her shape. She was of rugged build, unusu­ally full at shoulder and quarter, with a strong sheer aft, a pro­nounced tumble­home and a broad bot­tom, and her rel­at­ively deep drafts were set well apart. Her pro­peller was housed in a 'raised ram tun­nel', a hol­low­ness in the sweep of the plank­ing between the drafts. This fea­ture was ori­gin­ated by William Clarkson in the 1930s and gave a more effi­cient water flow to the propeller.
Cobles in Whitby and dis­trict ten­ded to be buxom and chunky. Local build­ers thought that a fuller, beam­i­er sturdy-lined coble was needed when motors got big­ger and fish­er­men began to work heav­ier fish­ing gear. Yet, very few cobles were exactly alike in line and detail. There were charm­ing incon­sist­en­cies in Golden Crown: her hull form was not quite sym­met­ric­al, but this was a key to her intrinsicality.
Golden Crown was built for Richard, Matthew and Francis Verrill, and was highly thought of as a grand little sea boat. Her deep drafts gripped the water and her rel­at­ively full shoulders pre­ven­ted her from drop­ping her head. During the winter she fished with longlines, catch­ing chiefly cod, had­dock and skate. At other times she worked 150 crab and lob­ster pots, using a hydraul­ic-powered hauler posi­tioned on a thwart aft.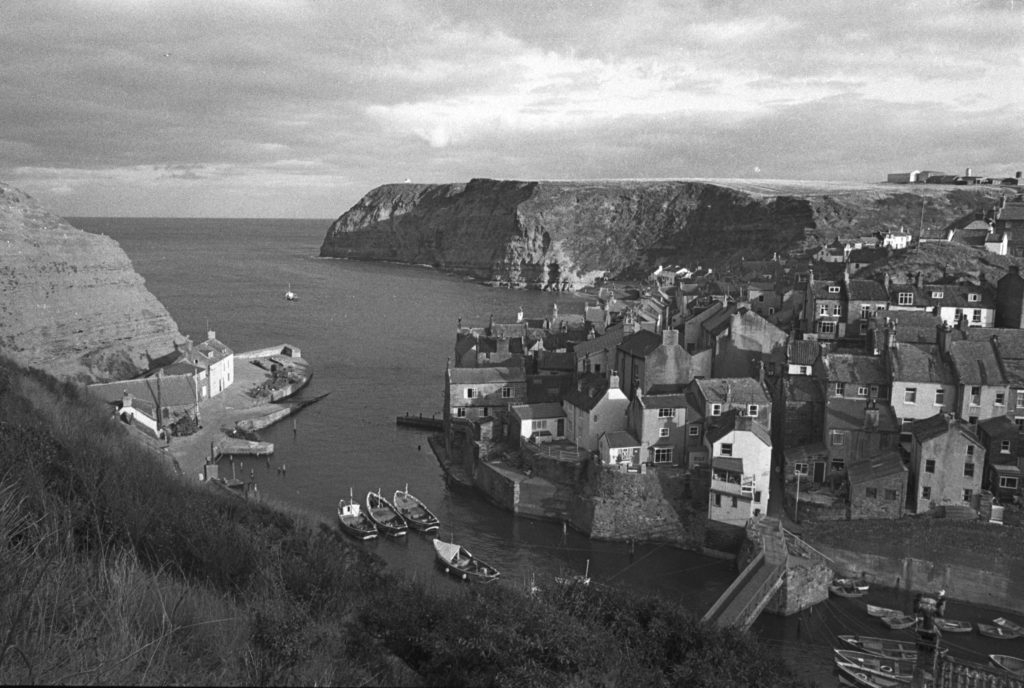 During my child­hood Golden Crown was a con­stancy, an endur­ing thread, but was set with­in the over­all enchant­ment and free­dom which was my life in Staithes and its sur­round­ing wild-scapes. I did not spend all my time with the boats. There were car­ni­vals, his­tor­ic­al pageants, torch­light pro­ces­sions, and con­gas through the streets and alley­ways with much laughter and friend­ship and the shriek­ing of her­ring gulls. There were whist drives in a har­bourside cot­tage when waves thumped against the wall; and walks with dog through wood­land and banks of prim­roses and along Jurassic sand­stone and shale cliffs 666ft high. There was the 11+ exam­in­a­tion and Grammar School in the his­tor­ic river port of Whitby. And I was always paint­ing, draw­ing and writing.
For me, too, there were vis­its to the rari­fied atmo­sphere of London and the Mayfair art gal­ler­ies, and weeks spent in an artists' com­mune. My moth­er, the paint­er Lilian Colbourn, pro­duced highly indi­vidu­al and power­ful pic­tures of fish­er people and sav­age seas, and won con­sid­er­able acclaim and suc­cess. Staithes folk could identi­fy them­selves and oth­ers in her paint­ings just by the stance, the shape of a fig­ure. But some were puzzled. 'It's this 'ere wild sort of paint­ing' was said with­in her hearing.
Although cobles were my first love, a her­ring-drift­ing trip from Whitby with the cruis­er-sterned Lead Us II A291 aroused my interest in other types of fish­ing boat. The trip was full of delight­ful sights, with moon­light and green bio­lu­min­es­cence, and every­one covered in thou­sands of opales­cent her­ring scales which filled the air as the fish­er­men shook the fish out of the nets and onto the deck. Later there was thick fog and a caco­phony of honks and whistles and booms and wheezes from dozens of nearby her­ring drift­ers and ring net­ters. Dawn was cold and grey and be-her­ring­scaled.
The catch was the biggest Lead Us II had ever had. My wordy youth­ful diary recalls '… skip­per leaps out of hold shout­ing " … most we've had in her …", and the crew did a conga round the deck'.
For a while, people wor­ried about Lead Us II. A Staithes fish­er­man said to me 'For God's sake, keep away from Lead Us. She ain't up to no good; she rolls'. However, all was well. An expert on ves­sel beha­viour was called in, who found her to have a high 'GM', or meta­centric height, a char­ac­ter­ist­ic which caused her to recov­er quickly from a roll but was a good sta­bil­ity fea­ture. Though she was uncom­fort­able and made people sea­sick, she would return to the vertical.