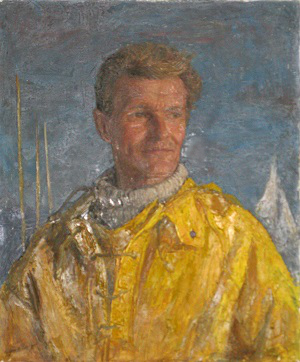 We are very sad to report the death on Wednesday 10 August, at the age of 92, of Ken Duxbury. Ken's long career embraced Naval service, sailing instruction, founding the boatbuilding business which was later to become Cornish Crabbers, sailing journalism in national newspapers and magazines, and the writing of a number of narrative and practical books on small boat sailing and navigation.
Ken was the author of the three-volume Lugworm series in the early 1970s, more recently reissued by Lodestar Books, to his great delight, as The Lugworm Chronicles.
On finally retiring from sailing Ken took up painting and was a well-known figure in the Cornish art community for many years. It was a great pleasure to be welcomed by him and his wife 'B' — his crew in the Lugworm tales — at their house on Bodmin Moor a few years ago. Ken had been in poor health over the past year or two. Our thoughts are with B in losing her partner of so many years, and one so full of life.