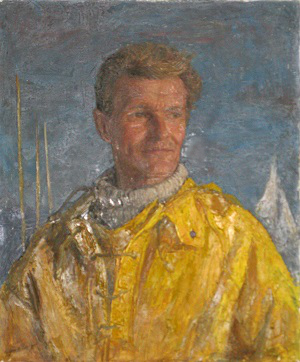 We are very sad to report the death on Wed­nes­day 10 August, at the age of 92, of Ken Duxbury. Ken's long career embraced Naval ser­vice, sail­ing instruc­tion, found­ing the boat­build­ing busi­ness which was later to become Cornish Crab­bers, sail­ing journ­al­ism in nation­al news­pa­pers and magazines, and the writ­ing of a num­ber of nar­rat­ive and prac­tic­al books on small boat sail­ing and nav­ig­a­tion.
Ken was the author of the three-volume Lug­worm series in the early 1970s, more recently reis­sued by Lode­star Books, to his great delight, as The Lug­worm Chron­icles.
On finally retir­ing from sail­ing Ken took up paint­ing and was a well-known fig­ure in the Cornish art com­munity for many years. It was a great pleas­ure to be wel­comed by him and his wife 'B' — his crew in the Lug­worm tales — at their house on Bod­min Moor a few years ago. Ken had been in poor health over the past year or two. Our thoughts are with B in los­ing her part­ner of so many years, and one so full of life.