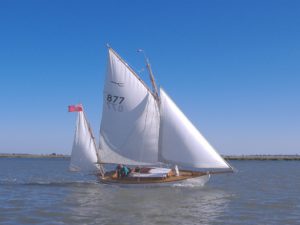 Some read­ers will know that I am fairly heav­ily implic­ated in The Albert Strange Asso­ci­ation—the fan club for that Victorian/Edwardian 'Ren­nais­sance Man'. England's East Coast (as we call the Thames Estu­ary, com­pared to which England's actu­al east coast is the high Arc­tic) is home to the largest con­cen­tra­tion of boats designed by Strange. These included, until this year, the old­est Strange yacht afloat Sheila (1905), lov­ingly restored and cared for at Wood­bridge by Mike Burn over some thirty years. She now has a new keep­er in Brit­tany, but as one chapter closes two more open: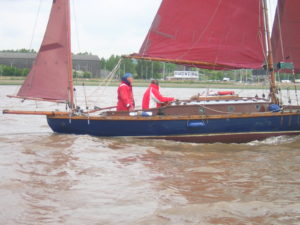 The last Hum­ber Yawl to sail on the Hum­ber itself, out of Brough, his­tor­ic home of the Hum­ber Yawl Club, has recently trav­elled over­land to Wood­bridge, where she is being worked on ashore, with an expec­ted launch date early next year. Albert Strange's 24ft Leona (1906) was built by Bun­dock Bros.of Leigh-on-Sea in Essex, and was restored in the 1990s by John May, to be sailed with his wife Pat on the chal­len­ging Hum­ber. John and Pat are now well into their eighties and have entrus­ted her to me. She has been stored ashore under cover for three years so is rather dried out, and she needs a little atten­tion, mainly replace­ment of her keel bolts, along with the centre­board case we had to demol­ish to get at them. Rowhedge boat­build­er Fabi­an Bush is doing the things which are bey­ond my abil­ity (I was OK at the demoli­tion part), and advising on the rest.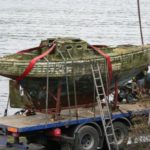 But here is the star of this tale. Ten years ago the ASA got word of anoth­er Strange clas­sic, the 26ft Mist (1907) aban­doned on a beach at Gare­loch, by the Clyde in Scot­land, hav­ing spent some time on the bot­tom of said loch. Long story short, she was res­cued largely by dint of the efforts of local boat­build­er Jim Hill, and she too was trucked to Wood­bridge where John Krejsa embarked on what turned out to be a hero­ic and largely single-handed ten-year rebuild. Only the ori­gin­al iron keel remains, but of course that mat­ters not, since a boat is less a phys­ic­al entity than a col­lect­ive state of mind. And any­way she is one up on Trigger's broom. Mist took to the water a few weeks ago look­ing resplen­dent, and the East Coast Strangers look for­ward to many years in her com­pany.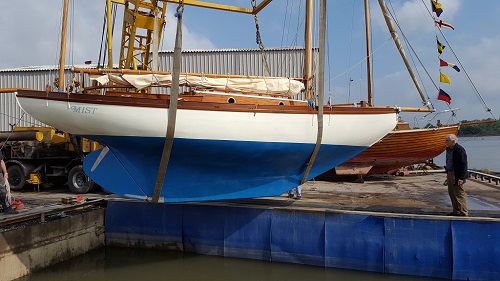 Canoe Yawls all—of course.