Readers may recall a year or so ago this post on the comings and goings of some beautiful Albert Strange canoe yachts at Woodbridge in Suffolk. Well the Strange population on the East Coast has increased again, by one. I don't wish to upstage Tally Ho's 600-mile overland journey north to her new home with Leo Goolden (how could anything do that?) but Albert Strange's Emerald has just done the same thing in reverse.
Emerald was built in 1937 to Strange's 1911 design Cherub III, which was to be his own final boat, and ever since I saw some lovely photos of her about ten years ago taken on a murky day off Carrickfergus, Northern Ireland, I have coveted her. Hers is held by some to be Strange's finest design, unsurprisingly given his client. In late August the Albert Strange Association learned that she had to be sold, as her skipper Roger Clarke's poor health prevents him maintaining or sailing her, after some 25 years in Roger and Sandra Clarke's care in which she truly graced the waters of the Clyde and the Irish Sea.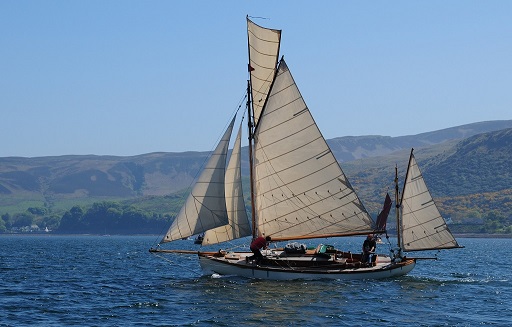 I got myself north pretty quickly to her home port on the Isle of Bute, where I found her afloat and in superb order but for her eroded varnish work, and terms were agreed for me to become her new keeper. I spent a week scraping and sanding her under cover there in September, and finally had her trucked down to Woodbridge in late October, where I hope to get her back afloat sooner rather than later. The jobs lined up are to complete taking back and restoring her brightwork, replace the canvas on the cabin roof, and fix up or replace the main and fore hatches. We'll also have a look at one or two keelbolts just in case, as they are 20+ years old. This photo was taken by local yachting writer and photographer Gordon Buchanan, and you can see what a beauty she is. Emerald's design (i.e., Cherub III) is written up in our book Albert Strange, Yacht Designer and Artist, and she is pictured inside in colour, and on the back cover. Full-size copies of Strange's original design drawings are available.
To answer a question some of you may be harbouring: Strange's Leona, built 1906 and by just a year the second oldest Strange yacht in existence, in my care for the last 18 months or so, has had her keel bolts replaced and awaits a new rudder tube and further minor work to get her sailing in 2018, at which point she will be looking for a new owner. She is a lovely and characterful boat, but Emerald has trumped her in my affections; in practical terms Emerald's greater size (28ft 6in vs 24ft 6in, plus greater beam and depth) offers better accommodation, and performance, yet she is reportedly very handy for the lone sailor. Should you be interested in adopting Leona sooner as an advanced work in progress, do get in touch.