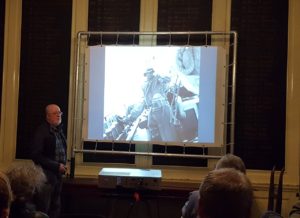 A crowded room in the West End of London was certainly enchanted last night as author, climber and sailor Philip Temple, visiting from New Zealand, spoke about the Tilman-skippered expedition in which he participated, fifty years ago, to reach and climb the 9,000ft volcano surmounting Heard Island, far in the southern ocean. His talk was one of a regular series of events hosted by our favourite chandler Arthur Beale, and it was accompanied by cracking photos from our new edition of Philip's book The Sea and The Snow, taken by expedition leader Warwick Deacock.
Some little-seen film footage depicted the sail, the climb, and the hair-raising dangers of landing on and departing from the harbourless island with an inflatable boat in heavy waves. The audience were warmed delightfully at 'half time' with a tot of rum and a morsel of marzipan, thanks to Arthur Beale's Alasdair Flint, who spotted in the book that these were favourite treats on the expedition.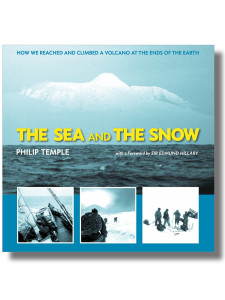 Remarkably, the snow-covered Heard Island (less so these days!) lies at 53 degrees south, the same distance from the equator as the relatively balmy Sheffield. What makes its climate a little more bracing is the combination of strong and unfettered westerly winds, and its location south of the Antarctic convergence, the marked boundary between warmer and colder regions of the ocean.
Two more Tilman hands were present last night: Bob Comlay, who sailed twice with 'The Skipper' to Greenland, and Andrew Harwich, who cooked on one of those Greenland voyages. Bob recounted some of his Greenland experiences, where Colin Putt, engineer on the Heard Island expedition, also crewed, and much anecdote-swapping took place. Proceedings adjourned to The Angel next door to our venue — the Vestry of the historic St Giles Church near the chandlery.
The photo shows Philip last night, accompanied by his 50-year younger self helming the sturdy ship Patanela in the Roaring Forties.