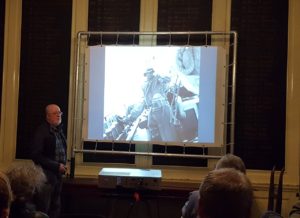 A crowded room in the West End of Lon­don was cer­tainly enchanted last night as author, climber and sail­or Philip Temple, vis­it­ing from New Zea­l­and, spoke about the Tilman-skippered exped­i­tion in which he par­ti­cip­ated, fifty years ago, to reach and climb the 9,000ft vol­cano sur­mount­ing Heard Island, far in the south­ern ocean. His talk was one of a reg­u­lar series of events hos­ted by our favour­ite chand­ler Arthur Beale, and it was accom­pan­ied by crack­ing pho­tos from our new edi­tion of Philip's book The Sea and The Snow, taken by exped­i­tion lead­er War­wick Dea­cock.
Some little-seen film foot­age depic­ted the sail, the climb, and the hair-rais­ing dangers of land­ing on and depart­ing from the har­bour­less island with an inflat­able boat in heavy waves. The audi­ence were warmed delight­fully at 'half time' with a tot of rum and a morsel of mar­zipan, thanks to Arthur Beale's Alas­dair Flint, who spot­ted in the book that these were favour­ite treats on the exped­i­tion.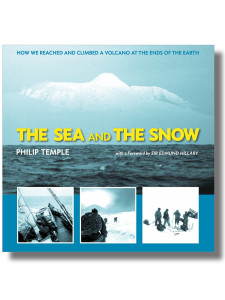 Remark­ably, the snow-covered Heard Island (less so these days!) lies at 53 degrees south, the same dis­tance from the equat­or as the rel­at­ively balmy Shef­field. What makes its cli­mate a little more bra­cing is the com­bin­a­tion of strong and unfettered west­erly winds, and its loc­a­tion south of the Ant­arc­tic con­ver­gence, the marked bound­ary between warm­er and colder regions of the ocean.
Two more Tilman hands were present last night: Bob Com­lay, who sailed twice with 'The Skip­per' to Green­land, and Andrew Har­wich, who cooked on one of those Green­land voy­ages. Bob recoun­ted some of his Green­land exper­i­ences, where Colin Putt, engin­eer on the Heard Island exped­i­tion, also crewed, and much anec­dote-swap­ping took place. Pro­ceed­ings adjourned to The Angel next door to our venue — the Vestry of the his­tor­ic St Giles Church near the chand­lery.
The photo shows Philip last night, accom­pan­ied by his 50-year young­er self helm­ing the sturdy ship Patanela in the Roar­ing Forties.