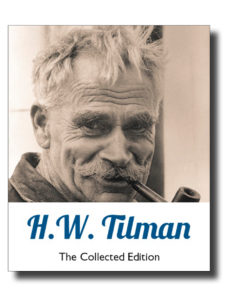 Our new H W Tilman Col­lec­ted Edi­tion has now reached 10 of the 16 volumes to be pub­lished by next June, and is gath­er­ing some ser­i­ous atten­tion. Yacht­ing Monthly have selec­ted for their 'Book at Bunk­time' (!) in the Novem­ber issue Tilman's grip­ping account from In Mischief's Wake (com­ing in Decem­ber) of the return to the UK from Green­land in 1970 of the increas­ingly decrep­it Sea Breeze, kept afloat by the tech­nic­al ingenu­ity of engin­eer Colin Putt and a lot of will­power.
And in the fol­low­ing, Decem­ber, issue HWT gets four whole pages: Two for Bob Comlay's own account of the same hair-rais­ing pas­sage from a crewman's view­point, and two more for Bob's art­icle on Tilman as oth­ers see him, drawn from the Fore­words and After­words to the new edi­tion and Bob's own exper­i­ence. Our con­trib­ut­ors are luminar­ies from the climb­ing and sail­ing worlds, headed by Sir Chris Bon­ing­ton and Sir Robin Knox-John­ston in the first two volumes; and they reflect a broad spec­trum of opin­ion on Tilman's tech­nic­al and social skills. Bob is my edit­or­i­al part­ner in the Tilman pro­ject, round­ing up all our sail­ing con­trib­ut­ors, and is one of the few to have sailed twice with Tilman—and that when still in his teens; he remained friends with the notori­ously tacit­urn Skip­per until Tilman's death in 1977.
The Tilmans (Tilmen? I don't think so), are edited and clas­sic­ally type­set by yours truly, and are com­pletely unabridged from the first edi­tions, retain­ing all the ori­gin­al pho­tos and maps. They have robust sewn bind­ings, and matt lam­in­ated soft cov­ers with flaps. You can order them from our web­site, not only indi­vidu­ally, but at a sav­ing of up to 30% by order­ing the entire set, or a sub­scrip­tion at two volumes per quarter. The ever-excel­lent chand­lery Arthur Beale in London's Shaft­es­bury Aven­ue stocks them all, and you will find some or all at Foyles in Char­ing Cross Road (where I worked in 1973, at the old build­ing!) in the Travel depart­ment. Trade interest else­where is variable—please feel free to nag your local book­shop or chand­lery.