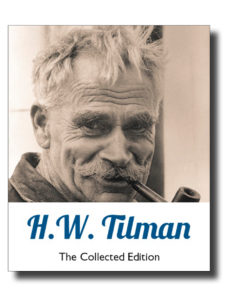 Our new H W Tilman Collected Edition has now reached 10 of the 16 volumes to be published by next June, and is gathering some serious attention. Yachting Monthly have selected for their 'Book at Bunktime' (!) in the November issue Tilman's gripping account from In Mischief's Wake (coming in December) of the return to the UK from Greenland in 1970 of the increasingly decrepit Sea Breeze, kept afloat by the technical ingenuity of engineer Colin Putt and a lot of willpower.
And in the following, December, issue HWT gets four whole pages: Two for Bob Comlay's own account of the same hair-raising passage from a crewman's viewpoint, and two more for Bob's article on Tilman as others see him, drawn from the Forewords and Afterwords to the new edition and Bob's own experience. Our contributors are luminaries from the climbing and sailing worlds, headed by Sir Chris Bonington and Sir Robin Knox-Johnston in the first two volumes; and they reflect a broad spectrum of opinion on Tilman's technical and social skills. Bob is my editorial partner in the Tilman project, rounding up all our sailing contributors, and is one of the few to have sailed twice with Tilman—and that when still in his teens; he remained friends with the notoriously taciturn Skipper until Tilman's death in 1977.
The Tilmans (Tilmen? I don't think so), are edited and classically typeset by yours truly, and are completely unabridged from the first editions, retaining all the original photos and maps. They have robust sewn bindings, and matt laminated soft covers with flaps. You can order them from our website, not only individually, but at a saving of up to 30% by ordering the entire set, or a subscription at two volumes per quarter. The ever-excellent chandlery Arthur Beale in London's Shaftesbury Avenue stocks them all, and you will find some or all at Foyles in Charing Cross Road (where I worked in 1973, at the old building!) in the Travel department. Trade interest elsewhere is variable—please feel free to nag your local bookshop or chandlery.