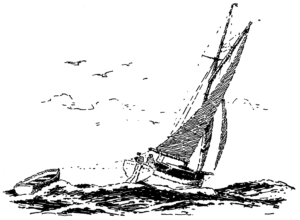 Her­bert Alker Tripp (1883–1954) was a keen sail­or and an accom­plished artist whose reg­u­lar occu­pa­tion was in a civil­ian capa­city with the Met­ro­pol­it­an Police in Lon­don from 1902 until his retire­ment in 1947. Begin­ning as a clerk, he rose to the rank of Assist­ant Com­mis­sion­er, with respons­ib­il­ity for traffic man­age­ment, a field in which he was a recog­nised author­ity in Bri­tain and North Amer­ica. In addi­tion to his sail­ing books, he is known for many paint­ings which were util­ised as travel posters for Eng­lish rail­way com­pan­ies. He was knighted in 1945 in recog­ni­tion of his war­time ser­vice in Lon­don. He pro­duced three volumes of cruis­ing yarns in the 1920s and 30s, copi­ously illus­trated with his mas­ter­ful pen draw­ings (whose Lode­star edi­tions are cur­rently out of print), then Under the Cabin Lamp in 1950, from which this tale is drawn. Most of his sail­ing was in Growl­er, a barge yacht, though this is hardly ever men­tioned in his writ­ing. In his day the type was looked down upon in some circles.
It seemed an odd thing to do, but we did it. Out of har­bour we went to sea for shel­ter.
In a heavy south-west­erly blow, we were anchored in Poole Har­bour again. We had come in the day before from the west­ward in heavy weath­er. Off Old Harry we had seen a yacht's main­sail ripped in half by a vicious gust of wind (we stood by, but she was clear of the rocks and wanted no help, for she had a try­sail). The weath­er being like that, the inside of Poole Har­bour seemed at first sight a most desir­able spot.
But where should we anchor? Sand­banks would be uncom­fort­able; and the draw­back of anchor­ing under the lee of Brown­sea Island would be that one can­not go ashore save by cross­ing to Sand­banks, in seas that would be too rough for a small dinghy. So we scud­ded on. Off Poole town there was a reg­u­lar sea­way with much 'froth and bubble'; the whole estu­ary was a mass of foam caps. Farther up, off that little pier at Ham­worthy, there ought to be a snug anchor­age, the wind being across the tide. And there it was that we let go.
Snug? Not a bit of it. There was a sharp jobble of short seas, which kept the yacht busy all the time. The wind was as bad as ever in the morn­ing, and we had had enough of it.
"Come on," I said, "let's get out of this." I was grasp­ing the shrouds as I said it; and, frankly, I needed to hold on to some­thing, for the yacht was buck­ing and flop­ping to a ridicu­lous extent. A lar­ger yacht would prob­ably have lain almost rock-steady; but the seas were just the size to give a 10-ton­ner the utmost degree of dis­com­fort.
"We'll get out of this," we decided. "Item one, it's some­thing to do; item two, it gets us away from this abom­in­able chop."
"Yes, but where?"
"Out­side the har­bour," I replied. We began to pull down the two reefs that we had only shaken out the night before, and we busied ourselves with a will, glad of the occu­pa­tion and the pro­spect.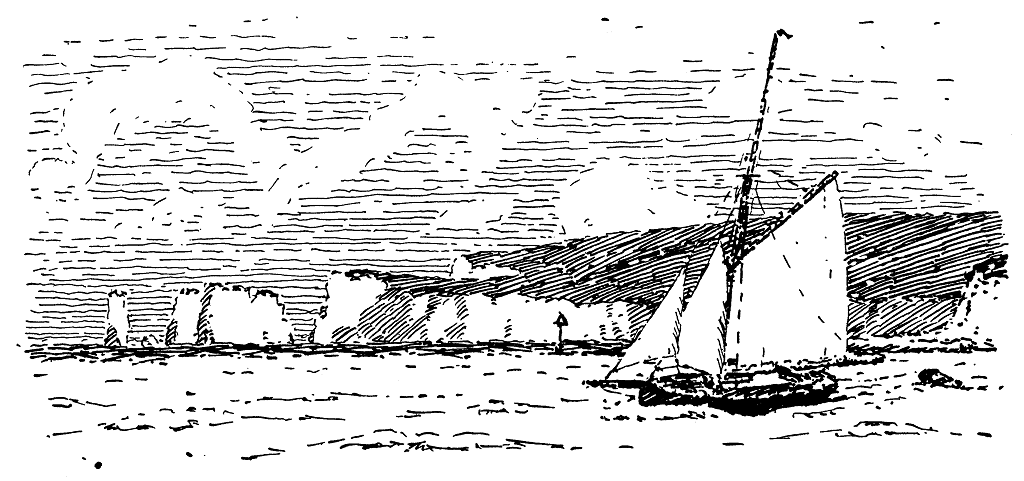 "We'll go and see what it's like at Stud­land," was the word. "If it's snug, we'll stay there; if not, no harm done. We'll come back to the 'com­fort of har­bour' again."
We made a quick pas­sage of it. Off Poole there was an anchored light­er, full of great blocks of stone for the train­ing wall at the har­bour mouth. The waves in the fair­way were break­ing so smartly that the spray went right over her once or twice.
To Salt­erns we flew. Then we hauled our wind and beat down to North Haven Point, and thence we reached through the har­bour entrance in smooth water, going like a train.
As soon as we opened Stud­land Bay we found the sea rough, des­pite the shel­ter of the land; and when we were close-hauled at Punch and Judy, we fairly took it over green. The yacht lay down to work, and thrashed dog­gedly on. A crash of crock­ery in the cabin told of minor dis­aster below; all the ordin­ary china was, of course, secure, but an orna­ment­al bowl had been imper­fectly stowed. Its frag­ments had a sea buri­al at Stud­land.
"I wouldn't have believed there'd be so much sea," my ship­mate shouted, as he tried to but­ton his oil­skin col­lar more firmly round his neck. The spray fairly came in sheets. "Why, we're right under the lee of the land, and yet…" Anoth­er sheet of spray made an appro­pri­ate end­ing to his sen­tence.
Then, as we actu­ally closed the shore, the magic­al change happened. The wind blew furi­ously still, but it blew on smooth water. We could see the streaks made across it, like the streaks made by gusts across a little inland pond. Close to the pilot cut­ter, we let go our anchor. We were com­pletely at rest, and com­fort­able at last.
We walked ashore in the after­noon, over the Downs. And we had a peace­ful night, although the wind was as strong as ever. It is an odd fact that the very strength of the wind seems to keep the swell out of the bay; and when the wind mod­er­ates the berth often becomes less snug. Of course, we had to be on the qui vive all the time. If there were any indic­a­tions that the wind was back­ing south-east­erly, we should have to cut and run, day or night, before the sea had time to get up and make the bay dan­ger­ous. But there was no back­ing, we were at peace. We had gone to sea to look for shelter—and had found it.