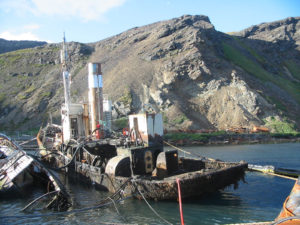 We heard the other day from Viola prin­cip­al author Robb Robin­son, who tells us:
We have secured the sup­port of the Gov­ern­ment of South Geor­gia and the South Sand­wich Islands (SGSSI) and their per­mis­sion to recov­er the ves­sel, provid­ing we carry out an envir­on­ment­al impact sur­vey. This has been organ­ised and the team car­ry­ing this out leave for South Geor­gia next week.
The BBC have run an update story on this pro­ject, which you can see here, and the Hull Daily Mail have fea­tured Viola lately here.
With Hull West MP Alan John­son lead­ing the charge to recov­er this his­tor­ic ves­sel to her home port, it might just hap­pen! We will keep you pos­ted.