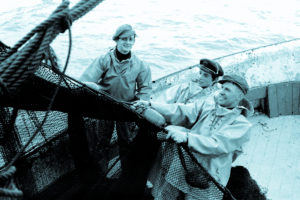 When barely six­teen I spent two months with my slightly young­er broth­er Dave hitch-hik­ing, and often rough sleep­ing, around Scot­land watch­ing birds. We went as far north as the Shet­land isle Fet­lar to see the snowy owls which bred there, and man­aged to cadge an overnight lift from Ler­wick back to Fraser­burgh, on the Scot­tish main­land, aboard the Nich­olas Ellis, a sub­stan­tial sev­enty-foot wooden fish­ing boat (not, we were told, a trawl­er) used to trans­port the Shet­land catch to mar­ket. We were made very wel­come, given cur­tained berths of our own in the stern of the boat, and plied lib­er­ally with the same fried food and tea the crew enjoyed. The pas­sage took some six­teen hours, in clear weath­er with a fresh wind and a lively sea. I recall wak­ing up in the small hours of the light north­ern sum­mer night and going onto the heav­ing deck alone, to exper­i­ence the ele­ments as never before. I little ima­gined that fifty years later I would have pub­lished two books about ves­sels of this kind, by Glor­ia Wilson—a lady whose life's work has been to record, in words, draw­ings, and pho­to­graphs, their con­struc­tion and use, and a cul­ture around them which is fast dis­ap­pear­ing.
Gloria's second book for Lode­star, Forth­right & Stead­fast, is ded­ic­ated to one par­tic­u­lar yard, Richard Irvin at Peterhead. The Cornish naval archi­tect Paul Gart­side, now US-based and a con­sum­mate design­er and build­er of wooden sail­ing and motor craft, worked on wooden fish­ing boat pro­jects in his youth, is famil­i­ar with Gloria's work and the Scot­tish fish­ing boat tra­di­tion, and so proved far bet­ter qual­i­fied than I could have hoped when I approached him to write the Fore­word to her book. Here it is:
In Forth­right & Stead­fast Glor­ia Wilson illu­min­ates the work of the Richard Irvin shipyard in Peterhead on Scotland's east coast between the years 1950 and 1978, when the com­pany ceased new con­struc­tion. She marks its passing and the end of an era that in my view deserves to be marked and cel­eb­rated far more than it is. It is a fact that those of us born in the mid twen­ti­eth cen­tury have been wit­ness to the final bloom­ing of a thou­sand-year-old tra­di­tion in the Brit­ish Isles, that of com­mer­cial wooden ship­build­ing. It has gone extinct in our gen­er­a­tion and is unlikely ever to return.
We are not talk­ing wooden boat­build­ing here which con­tin­ues to thrive in a mod­est way in the world of yachts, adapt­ing as it does so to mod­ern meth­ods and mater­i­als. No, what is described in these pages is a dif­fer­ent world alto­geth­er. In the first place it is a com­mer­cial world in which the eco­nom­ic equa­tion of return on invest­ment drives both ves­sel design and con­struc­tion. They in turn are a reflec­tion of con­tinu­al changes in fish­ing meth­ods, engine power and equip­ment. Secondly, it is the world of heavy tim­ber con­struc­tion in which ves­sels are built on sawn frames of massive pro­por­tion cut from grown oak, that is, from the nat­ur­al crooks of the Eng­lish oak tree, and are planked with larch, spiked on with gal­van­ised boat nails, the seams caulked with cot­ton and oakum. It's a meth­od little changed from that used by the Eliza­beth­an explorers, or by the Royal Navy in the Napo­leon­ic wars, or by the East India com­pany in the age of col­on­isa­tion. That it sur­vived in the fish­ing industry long after it had died out in all other areas of mar­ine trade is a remark­able fact.
More remark­able still, at the same time Neil Arm­strong was land­ing on the moon, one could walk into boat­yards all round the coast of Bri­tain and see this ancient art being prac­ticed, not out of sen­ti­ment­al­ity, but because it was still the best solu­tion to the eco­nom­ic equa­tion. In lar­ger ves­sels wood gave way to steel in the early years of the last cen­tury, but steel was slow to find its way down to small and medi­um size fish­ing ves­sels. Fish­er­men prized the clean­li­ness and rel­at­ive ease of main­ten­ance of a wooden boat and the weight dis­tri­bu­tion in the struc­ture that has so much to do with motion at sea. In the 1970s fibre­glass broke through into the smal­ler end of the com­mer­cial sec­tor and began stead­ily work­ing its way up into the ground tra­di­tion­ally held by wood boats. Caught between the two altern­at­ive mater­i­als, heavy wood finally suc­cumbed in the last dec­ades of the twen­ti­eth cen­tury, its demise hur­ried along by the fish­ing policies of the European Union. I can­not say for sure that no wooden fish­ing ves­sels are being built today in the Brit­ish Isles, but if they are, they will be the excep­tions. The last gen­er­a­tion of crafts­men steeped in this tra­di­tion, along with the spe­cial­ist sup­pli­ers of grown tim­ber and fasten­ings, are all sink­ing below the hori­zon now. This is what makes this book so valu­able and so timely.
Glor­ia Wilson grew up in an artist­ic fam­ily in Staithes on the York­shire coast and it was there that she became inter­ested in the small fleet of Eng­lish cobles. Later, in nearby Whitby, she first encountered the lovely Scot­tish cruis­er sterned ves­sels that seem to have cast a spell over her entire work­ing life.
I dis­covered Gloria's work in the 1970s as a young naval archi­tect doing sta­bil­ity work on a wooden fish­ing ves­sel under con­struc­tion in Corn­wall in south-west Eng­land. Hav­ing grown up in a boat­yard I was famil­i­ar enough with wooden boats, but the heavy sawn frame con­struc­tion used in fish­ing boat build­ing was a dif­fer­ent plan­et and a rev­el­a­tion to me. I read everything I could on the sub­ject, from the scant­ling rules of the White Fish Author­ity which pre­scribe the dimen­sions of all struc­tur­al mem­bers, to Glor­ia Wilson's books Scot­tish Fish­ing Craft and More Scot­tish Fish­ing Craft, and her many art­icles in Fish­ing News, as well as the writ­ings of the great Ayrshire build­er Alex­an­der Noble. There they are on my book­shelf now in a well used sec­tion that includes the stand­ard texts on fish­ing ves­sel stability—a remind­er of a very happy peri­od in my life
It was no coin­cid­ence that my focus at that time was north of the bor­der. It was clear that the Scots were on the lead­ing edge of things. It was the Scots who were push­ing the lim­its of the length/beam ratio, build­ing boats wider and with great­er free­board than ever before. How it must have dis­tressed Glor­ia to see her beloved cruis­er stern give way to transoms, but that was the trend—and still is. Increased engine power and the explo­sion of hydraul­ic­ally oper­ated equip­ment changed the pic­ture too, adding loads to the struc­ture never envis­aged by the authors of the White Fish Author­ity rules. In response the Scot­tish build­ers were incor­por­at­ing ever more steel into their vessels—engine beds, bulk­heads and deck sup­port knees. Gloria's descrip­tion of the Irvin shop filled with a mix­ture of smoke from the weld­ers and steam from the steam box used to soften and bend the plank­ing cap­tures the era per­fectly.
Anoth­er mile­stone she notes is the impos­i­tion of sta­bil­ity reg­u­la­tions and assess­ment both before con­struc­tion begins and after launch—this as a dir­ect res­ult of the devel­op­ment of com­puter soft­ware in the early 1970s. No longer were the builder's model and the loftsman's eye suf­fi­cient war­ranty of sea­wor­thi­ness, as they had been for all pre­vi­ous gen­er­a­tions. From here on every step of the pro­cess would bear the regulator's stamp. That was a big change, and while prob­ably for the best, one feels for those quiet com­pet­ent trades­men Glor­ia so admires—men with more intu­it­ive know­ledge than an army of math­em­aticians.
The best parts of the book from my point of view are the descrip­tions of the meth­od used at Irvin's to evolve their designs from one boat to the next. Her por­trait of George McK­ech­nie the lofts­man is price­less. I could have wished for much more of that kind of con­ver­sa­tion with the trades­men in the yard to bet­ter under­stand their meth­ods and equip­ment. But one can­not have it all. Gloria's vis­ion is a wide one that includes the devel­op­ment of the port of Peterhead, the skip­pers and their land­ings as well as her exper­i­ences going to sea in the ves­sels she so loved.
Glor­ia Wilson truly belongs in the tra­di­tion of the folklorists—individuals moved ini­tially by the dis­cov­ery of beauty in the com­mon­place who are then com­pelled to under­stand and record what they find. In doing so they leave a leg­acy of riches for future gen­er­a­tions. In that sense she keeps com­pany with the likes of Cecil Sharp and Alan Lomax, or in the world of boats, Phil­lip Oke and Howard Chapelle. One hopes her example will spur oth­ers to sim­il­ar effort, for the cap­tur­ing of cul­ture and local know­ledge before it slips away is always a noble pur­suit.