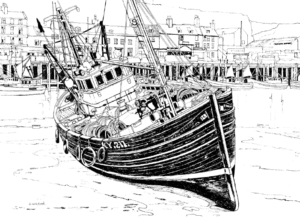 Glor­ia Wilson has been writ­ing about, pho­to­graph­ing and draw­ing the North Sea fish­ing industry for half a cen­tury. Of her draw­ings in par­tic­u­lar she writes:
In mak­ing the draw­ings, with my own pho­to­graphs for ref­er­ence, I have enjoyed a mind­ful scru­tiny of the boats and their sin­gu­lar spir­it and magic, their idio­syn­crasies and some­times their uneven­ness. I feel that draw­ings rather than pho­to­graphs are a bet­ter means of express­ing these things, and I hope that the images are full of fac­tu­al inform­a­tion and testi­mony, and con­vey a sense of the boats' essen­tial qual­it­ies.
All the more strange, then, that her draw­ings have not pre­vi­ously found favour with a book pub­lish­er. Mike Smylie, mari­time his­tor­i­an, author, and kip­per enthu­si­ast, expresses the same view in his Fore­word to Gloria's Fish­ing Boats of Scot­land:
When I first star­ted research­ing fish­ing boats and those who work them, I was drawn to Glor­ia ­Wilson's Scot­tish Fish­ing Craft and her sub­sequent More Scot­tish Fish­ing Craft, both being pub­lished by Fish­ing News Books in the second half of the 1960s. At that time the fish­ing industry was com­ing through the post­war change­able peri­od: the her­ring was in fast decline, boats were mod­ern­ising and adapt­ing whilst new tech­niques were com­ing into play. Super­sti­tions, though, were still alive so it was hardly sur­pris­ing that there were some folk highly sus­pi­cious of a young woman—Gloria Wilson—embarking on many fish­ing exped­i­tions and hap­pily trudging through boat­yard and quay­side alike, ques­tion­ing and pho­to­graph­ing the ­people and ves­sels that were soon almost to dis­ap­pear. There must have been some fish­er­men who looked on in com­plete shock—and denial—at the twenty-five-year-old spend­ing time at sea, in all weath­ers, in what was then gen­er­ally regarded as a man's world. It was, we now know, pion­eer­ing work.
But Glor­ia Wilson was fore­most an art teach­er so it can­not come as any sur­prise that she was also pro­du­cing lovely detailed line draw­ings of the boats she saw. Before her, her moth­er had been paint­ing fish­ing boats and her fath­er fish­ing, so the young grow­ing-up girl must surely have had the fish/paint thing in her blood. Liv­ing along­side the sea in Staithes, on the York­shire coast, also provided her with ample inspir­a­tion. But with pub­lish­ers pre­fer­ring the more con­ser­vat­ive pho­to­graph, it took anoth­er thirty years before these draw­ings first mater­i­al­ised in her pub­lished work: in two books from Hut­ton Press (Scot­tish Fish­ing Boats and Fish­ing Boats of Whitby and Dis­trict) and even then we had only a glimpse. Pho­to­graphs were still her main medi­um and this theme con­tin­ued through the four books she has writ­ten for The His­tory Press over the last dec­ade, the most recent appear­ing in 2013.
Yet I recall con­tem­plat­ing these line draw­ings when first read­ing Scot­tish Fish­ing Boats. Look­ing back through past issues of the journ­al Fish­ing Boats, I find a review in the Spring 1999 issue in which I wrote of Fish­ing Boats of Whitby and Dis­trict "She per­son­al­ises the subject—and the boats—and intro­duces us to the folk who live and work these fine ves­sels" and go on to men­tion "her own superb line draw­ings [which] also add interest to these craft". Think­ing back, I remem­ber won­der­ing why there weren't a lot more of them.
So, exactly half a cen­tury after she pub­lished her first book, at last we have a col­lec­tion of these evoc­at­ive draw­ings. In this book there's a nice cross-sec­tion of boats from around the north-east of Scot­land and the York­shire coast which, as she says in her intro­duc­tion, "were the areas I know the best and where I have met the fish­er people and their boats". They rep­res­ent a fish­ery of the rich North Sea almost gone, and many place a ves­sel not in isol­a­tion, but in the con­text of its work, with atmo­spher­ic detail. Not since Peter Anson's Fish­ing Boats & Fish­er­folk on the East Coast of Scot­land (1930) and Ern­est Dade's sketch book of the North Sea, Sail and Oar (1933), have we seen such a fine col­lec­tion of exact­ing and well-com­posed illus­tra­tions that I sug­gest echo Millet's descrip­tion of "the treat­ing of the com­mon­place with the feel­ings of the sub­lime". Thus it is indeed an hon­our to be able to recom­mend this book to a wide read­er­ship.