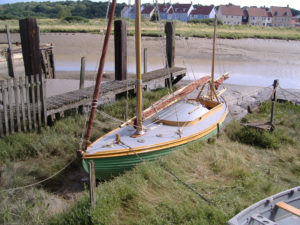 Spring 2009: Con­stance is just back from her first Old Gaf­fers event, the annu­al East Coast Race week­end at Bright­ling­sea, where she mixed it with craft large and small, and attrac­ted much admir­a­tion for both her looks and speed, praise which rightly belongs to her design­er Albert Strange and her build­er Fabi­an Bush.
The week­end began with a self-timed pas­sage race for all boats from their home port to the Nass beacon at the mouth of the River Black­wa­ter. Between Constance's home port of Walton and the Black­wa­ter lies a stretch of sea called the Wal­let which (in my lim­ited exper­i­ence) tends to have the wind along it one way or the other, more often than not. On Fri­day it was 'along' alright, and against us, so the 20 miles (as the fish might swim) beat­ing into it took a gnat's under 6 hours with the tide.
Our path criss-crossed (before she soon showed me a clean pair of heels) with the boat known to the ASA as "the other" or "Richardson's" Charm, on pas­sage from the Deben, and I real­ised that whatever Robert Hill was doing non­chal­antly in the cock­pit he didn't seem to be steer­ing the boat. I later learned from him that the hull remod­el­ling per­formed by her Irish build­er Richard­son to Strange's ori­gin­al design Sheila II had cor­rec­ted S-II's helm bal­ance to the point where Charm would sail her­self by sail trim­ming with no need to lash the tiller. Wheth­er this works other than with wind for­ward of the beam I didn't estab­lish.
On arrival at the beacon we were too late for the sea­food lunch laid on for us at Pack­ing Shed Island, so it was about-turn and head back to a har­bour berth at Bright­ling­sea, and the begin­ning of a con­vivi­al and absorb­ing week­end.
The main event was the East Coast Race, on Sat­urday, on a course decided on the day accord­ing to the weath­er. Winds were quite light and the one chosen was some way up the Black­wa­ter and back, a round trip of some 18NM. This was my first prop­er race with Con­stance, and what began with quak­ing trep­id­a­tion ended with a quiet sense of achieve­ment, and greatly boos­ted con­fid­ence. Cross­ing the start line more or less on time was a good begin­ning. Being single-handed I made no attempt to work out the com­plex course for myself, but simply fol­lowed oth­ers who seemed to know what they were doing. Curi­ously, vir­tu­ally every leg of the out and back course proved to be upwind in the con­di­tions which pre­vailed.
Bright­ling­sea is home to many con­ver­ted fish­ing smacks, fast, well-can­vassed and heav­ily-built craft 30–40ft in length plus a prodi­gious bow­sprit, and their start time was some minutes after the major­ity of the fleet, giv­ing us a great chance to admire them at close quar­ters as they over­hauled us dur­ing the race. Con­stance held her own very well against any­thing her own length, and quite a few longer, being occa­sion­ally let down only by her skipper's inex­per­i­ence in tac­tics and judging the marks. More than one skip­per of a far lar­ger craft was bemused to see little Con­stance heel-snap­ping, occa­sion­ally even over­tak­ing.
Sunday was a relax­ing day. I spent the morn­ing per­form­ing a long over­due replace­ment of the main boom's bronze goose­neck fit­ting, as I had bent and cracked the ori­gin­al some weeks before when I over­topped the boom against the mast. It was still giv­ing good ser­vice but I was push­ing my luck. Being tied up two or three abreast in a Bright­ling­sea har­bour crowded with Old Gaf­fers gen­er­ated a great atmo­sphere, and ensured that the odd tool left at home (span­ner and pli­ers in my case) could be bor­rowed read­ily. Get­ting the job done was a busi­ness pleas­antly pro­trac­ted by the much mutu­al boat admir­a­tion and note-com­par­ing that comes with these gath­er­ings.
Sunday after­noon was a Parade of Sail, dozens of us in all shapes & sizes cruised up the River Colne to the Wiven­hoe Sail­ing Club where they had laid on a hog roast and (con­cur­rently, but that didn't stop any­one) a High Tea, both of superb qual­ity. Many craft motored the final mile or two rather than beat up the nar­row­ing river, but I felt the hosts would appre­ci­ate a few boats actu­ally sail­ing in so that's what we did, the only tricky part being loc­at­ing someone to tie up to and get­ting the main off her smartly when the time came.
The fore­cast for today, Monday, was 'stormy' so I decided to sail Con­stance back yes­ter­day from Wiven­hoe to her moor­ing on the Twizzle at Walton, a dis­tance of some 20 miles, were it not for the tack­ing neces­sit­ated by a wind just north of east. Start­ing out at 1700 I knew it would be a long haul. True to form the wind was 'along' the Wal­let, but this time the other way, so again against us. A four-legged beat at a con­stant (and in this little boat, stir­ring as the water fizzed past the lee rail) 3+ knots through the water got us well past the Walton Tower by around 10pm, the ebb tide being with us, a long beat but a thor­oughly enjoy­able one, where I noticed that for a clear sum­mer even­ing it seemed remark­ably dark. Remov­al of my sunglasses restored the scene to nor­mal­ity.
Con­stance's pro­to­type, Albert Strange's Wenda of 1899 (never built at the time) was designed for the 'short, steep seas of the Thames Estu­ary' and only in the last few months have I really put this to much of a test. She is of course lim­ited in hull speed by her 20ft water­line length, but her ample rig, fine entry and slip­pery shape, plus the stiff­ness and iner­tia impar­ted by her 1/2 ton lead keel, enable her to accel­er­ate rap­idly, and not be as eas­ily stopped by a head sea as ves­sels more amply provided with beam (and, it must be said, accom­mod­a­tion).
We turned north to hit the Pye End buoy on the nose an hour or so later, which I was rather happy about as it is tricky to find by day, and its white flash­ing light is eas­ily lost at night against the busy back­drop of lights on shore. At this point we steered around 225deg to pick up the suc­ces­sion of buoys mark­ing the chan­nel into the Walton Back­wa­ters, giv­ing us a mod­er­ate breeze on the port quarter.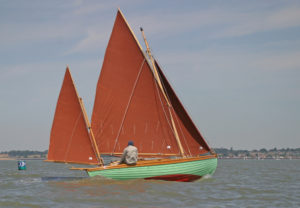 At not long past low water, and with only the next buoy in line read­ily vis­ible, it pays to keep track of the pre­vi­ous buoy too, to ensure you are still inside the quite nar­row and steep-sided chan­nel, even when you draw well under three feet. Per­haps you can now fore­see where this yarn is going, and the events which make it worthy of report­ing. A couple of buoys in, at around 2330, the Pye Sand made itself overly famil­i­ar to Con­stance's keel. On a rising tide I was not too con­cerned, as it gave me the oppor­tun­ity to get the sails off her (the main with its com­plex arrange­ment of hal­yard blocks can be awk­ward to douse at sea) and deploy the motor on its nifty remov­able quarter brack­et.
What fol­lowed is not my proudest moment: Hav­ing moun­ted the motor and ensured its pro­peller was well clear of the sand, I star­ted it and made to rotate it 180deg to pull us back off. At which point it leapt into the sea and died, I hav­ing omit­ted, inex­plic­ably, to tight­en its clamp­ing screws, and not noticed this in the dark­ness. For­tu­nately the motor was attached to the boat by a safety line, and in 3 seconds flat it was back on board, but out of action pending pro­fes­sion­al atten­tion. At this instant I knew it would be a long haul home, the wind hav­ing all but died.
At first unwill­ing to deploy the main again as I didn't rel­ish later get­ting it down in what might be a tight spot if the wind got up, I tried to 'jib & mizzen' my way on a south-east­erly course per­pen­dic­u­larly back to the safety of the chan­nel, as this offered the least risk of fur­ther ground­ing. The com­bin­a­tion of jib & mizzen is a very handy one, but close-hauled sail­ing in neg­li­gible wind is not its strong point, and so the 12ft sweep played a major part in keep­ing us ori­ent­ated and mov­ing in the right dir­ec­tion. After a while it occurred to me that I was actu­ally enjoy­ing being out here on this balmy, starlit night with the moon play­ing hide-and-seek with a hand­ful of clouds.
But I soon real­ised that without the main I would be here for a month of Sundays, so up it went and at a more rapid rate (I speak rel­at­ively) we buoy-hopped our way into the entrance of the Back­wa­ters, and some­how found the Walton Chan­nel without fur­ther ground­ing. Being now in the lee of the Naze spit we were ser­i­ously short of motive power and so steer­age way, but with a com­bin­a­tion of full sail and the sweep we ghos­ted our way the two miles up the chan­nel between moored craft (those slum­ber­ing aboard bliss­fully unaware of how close they had come to my air-cooled out­board des­troy­ing the silence, now broken only by the dip­ping and creak­ing of the sweep and the occa­sion­al cur­lew or oyster­catch­er).
By far the most use­ful item my late fath­er gave me is a hand-torch which is charged simply by shak­ing it. This was to be needed to identi­fy my own moor­ing buoy, whose painted num­ber I can­not remem­ber but whose top ring I have bound with rope to pro­tect Con­stance's top­sides when wind against tide make her ride over it. Unfor­tu­nately in the earli­er activ­ites I dropped the torch some­where in the stern and in the pitch black down there could not find it. This neces­sit­ated sail­ing right up to each can­did­ate buoy in turn, track­ing it with peri­pher­al vis­ion only, as in the dark it was invis­ible to for­ward vis­ion, and phys­ic­ally feel­ing its ring from the cock­pit. Four or five such tests loc­ated the right one, and we were finally home safe and sound.
The time? 0230. By the time I had stowed the sails and resolved the rat's nest of lines in the cock­pit a fur­ther hour had passed and the east­ern sky was light­en­ing. I turned in reflect­ing on my most adven­tur­ous solo exped­i­tion yet with Con­stance, one in which 90% of the sail­ing was upwind, and one in which I had enjoyed every single minute, bar­ring just the one.
[This art­icle is not in the book below — We just thought you might like it]