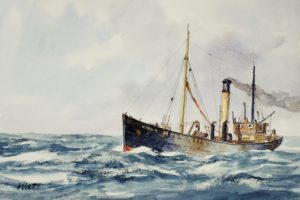 The Albert Strange Asso­ci­ation (bear with me), in which I am heav­ily implic­ated, held its Annu­al Gen­er­al Meet­ing in Lin­coln a few years ago, and our very enga­ging guest speak­er was Dr Robb Robin­son, a mari­time his­tor­i­an at the Uni­ver­sity of Hull. His sub­ject was Viola, the last sur­viv­ing pre-World War I Hull steam trawl­er; sur­viv­ing only because she escaped the scrapyard by migrat­ing to the seal­ing and whal­ing indus­tries in the far south, where she remains aban­doned today in South Geor­gia, hav­ing nar­rowly escaped scrap­ping again, by the Argen­tini­ans in 1982. I sug­ges­ted to Robb there must be a book in this, and he respon­ded that indeed there was, but he could find no pub­lish­er inter­ested. Well I was, and Viola has become one of our best-selling titles. There is now a lively cam­paign to bring the ship back to her home port for the first time since 1914, with Hull West MP and ex-Gov­ern­ment min­is­ter Alan John­son at its head. Below, Robb sets the scene for an extraordin­ary piece of mari­time and social his­tory:
Deep in south­ern lat­it­udes, in a des­ol­ate corner of Cum­ber­land Bay on the east coast of the sub-Ant­arc­tic island of South Geor­gia, hard by the rot­ting quays of the aban­doned whal­ing sta­tion of Grytviken and almost with­in a stone's throw of the grave of Sir Ern­est Shack­leton, lie three for­saken steam ships: rust­ing rem­nants of our indus­tri­al past, unique sur­viv­als from a van­ished age of steam at sea. Far from any main ship­ping lane, the isol­a­tion of their anchor­age has helped them avoid the scrap-cutter's torch.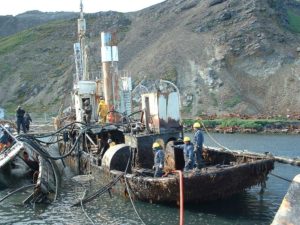 Their refuge is cer­tainly remote. Set amongst sav­age South Atlantic seas, South Geor­gia ranks high on any list of far-flung places of our earth. A dra­mat­ic gla­cial wil­der­ness of around 120 miles in length, yet no more than twenty or so in width, it lies on the Sco­tia ridge and can only be reached by ship after a voy­age of some 800 miles from Stan­ley in the Falk­land Islands.
A haven for albatross, skuas, pet­rels and count­less other seabirds, its vast snow-streaked peaks of Alpine pro­por­tions rise steeply, almost straight from the sea, above colon­ies of mil­lions of pen­guins and the herds of huge ele­phant seals that haul them­selves ashore in sparse tus­sock-strewn bays for a few months each year to give birth. There are no towns, or even vil­lages, only a string of derel­ict whal­ing sta­tions that cling where they can to the shores beneath spec­tac­u­lar ice-clad moun­tains and great gla­ciers along the island's east­ern coast. Although vis­ited by passing cruise ships, much of the island is almost, but not quite, devoid of any per­man­ent human pres­ence. King Edward Point, across Cum­ber­land Bay from Grytviken, is the centre of the island's admin­is­tra­tion and today home to a soph­ist­ic­ated fish­er­ies research labor­at­ory.
Even when whal­ing oper­a­tions were in full swing, much of the wider world knew little of South Geor­gia, let alone had any idea where it was; except, per­haps, on the two occa­sions when dra­mat­ic events brought it briefly to the atten­tion of the inter­na­tion­al media. Back in 1916, Ern­est Shack­leton reached the island after an 800-mile voy­age across huge seas in a small open boat, from Ele­phant Island where the crew of his ill-fated Ant­arc­tic exped­i­tion was marooned. His party scrambled ashore in King Haakon Bay on the west coast. Although exhausted, Shack­leton and two com­pan­ions had no choice but to become the first people to tra­verse the gla­ciers and uncharted moun­tains of the island's interi­or in order to reach the com­par­at­ive safety of the Strom­ness whal­ing sta­tion. Shack­leton sub­sequently res­cued all his crew from Ele­phant Island but was later to die of a heart attack aboard his ship, Quest, in Cum­ber­land Bay on return­ing to South Geor­gia, en route for the Ant­arc­tic again in 1922.
Some sixty years after Shack­leton was bur­ied in Grytviken's cemetery, South Geor­gia hit the head­lines once more. On a cold and wet morn­ing, this time in March 1982, a group of Argen­tine scrap metal mer­chants were landed by the naval aux­il­i­ary Bahía Buen Suceso at Leith Har­bour, a few miles from Cum­ber­land Bay. Their remit was to cut up the rust­ing equip­ment that littered the old whal­ing sta­tions, and the three old ships left in the waters of Cum­ber­land Bay.
Yet some­thing was not quite right about the Argen­tines' arrival. Dip­lo­mat­ic pro­tocol and inter­na­tion­al law required that the Bahía Buen Suceso should not have dis­em­barked people at Leith Har­bour before vis­it­ing Cum­ber­land Bay and report­ing for Cus­toms and Immig­ra­tion Clear­ance to the offi­cial Brit­ish Magis­trate, a sci­ent­ist res­id­ent at the Brit­ish Ant­arc­tic Sur­vey Base on King Edward Point. This they con­spicu­ously failed to do and instead raised the Argen­tine flag at Leith Har­bour. Thus began the incid­ent that argu­ably opened the Falk­lands War.
The Brit­ish Gov­ern­ment, caught off guard by the sub­sequent escal­a­tion of a long-sim­mer­ing con­flict, had less than one hun­dred mar­ines and the sur­vey ves­sel HMS Endur­ance in the South Atlantic with which to defend the Falk­land Islands and their Depend­en­cies from a full-scale Argen­tine inva­sion. With­in weeks, the Falk­land Islands were in Argen­tine hands after a spir­ited defence by the Brit­ish mar­ines around the Governor's House in Stan­ley. South Geor­gia was taken a little later when Argen­tine sol­diers rein­forced the ori­gin­al land­ings at Leith Har­bour, but not before they faced a fierce fire­fight around Grytviken with just eight­een Brit­ish mar­ines, who even­tu­ally sur­rendered to an over­whelm­ingly lar­ger force.
His­tory records that these Argen­tine suc­cesses were of short dur­a­tion. A Brit­ish Task Force was quickly assembled and with­in days had set sail for the South Atlantic. A few weeks later South Geor­gia was back under Brit­ish con­trol after a series of actions in which UK mil­it­ary heli­copters dis­abled the sub­mar­ine Santa Fe and landed Spe­cial Forces on shore. The Brit­ish Task Force's recap­ture of South Geor­gia was a pre­curs­or to retak­ing the Falk­land Islands via San Car­los Bay, Goose Green, and battle on the heights above Stan­ley.
For a few short weeks events on South Geor­gia attrac­ted world atten­tion. Cum­ber­land Bay was briefly a hive of unac­cus­tomed activ­ity, being vis­ited by vari­ous requisi­tioned ves­sels includ­ing the liners QE2 and Can­berra. Today a few rem­nants, includ­ing the wreck­age of an Argen­tine heli­copter brought down by Brit­ish troops, remain around the island as remind­ers of the war.
Inter­na­tion­al interest soon van­ished. Though the dis­pute over the sov­er­eignty of the Falk­land Islands and the Depend­en­cies con­tin­ues to this day, South Geor­gia, the for­saken whal­ing sta­tions and the old ships slipped back into their accus­tomed obscur­ity. Much of the island remains largely untouched and unspoilt, a haven for seabirds and seals—an immense nat­ur­al sanctuary—although the old whal­ing sta­tions have stead­ily deteri­or­ated, their scrap metal, which had ostens­ibly lured the Argen­tines back in 1982, con­tinu­ing to rust away.
On anoth­er grey and grainy morn­ing back in Feb­ru­ary 1906, almost sev­enty-six years before the land­ings at Leith Har­bour, the cold, wet quay­sides by the Hum­ber around St Andrew's Dock in the great sea­port of Hull were also alive with activ­ity. Light showers and occa­sion­al flur­ries of sleet and snow dus­ted the dock­sides as close on fifty steam trawl­ers pre­pared to take leave for the North Sea fish­ing grounds. This was the first full sail­ing of the new Helly­er Box­ing Fleet.
So-called box­ing fleets were an early form of indus­tri­al fish­ing. Their name came from the boxes in which the trawl­er crews packed their newly caught fish. The ships in these fleets worked far from port for weeks on end. Most days fast steam cut­ters reached the fleets from Lon­don, and the boxes of fish were trans­ferred from trawl­ers to cut­ter by open row­ing boat in every kind of weath­er. Once laden with all the trawl­ers' catches, these cut­ters then dashed for the Thames, at high speed through all sorts of sea, past empty sis­ter ships steam­ing back out to the fleet. Cut­ters, trawl­ers and trawl­er­men: all played their part in a seem­ingly unend­ing struggle to ser­vice Billings­gate Mar­ket and sat­is­fy London's almost insa­ti­able demand for fresh fish.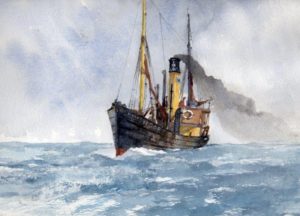 Three fleets of box­ing steam­ers already hailed from Hull. These were known respect­ively as the Game­cock, Great North­ern and Red Cross fleets. But Charles Helly­er, Hull's lead­ing trawl­er owner and Man­aging Dir­ect­or of the Helly­er Steam Fish­ing Com­pany, thought there was room for anoth­er such ven­ture, and in Septem­ber 1905 he announced plans to build a new North Sea box­ing fleet from scratch. The scale and pace of Hellyer's pro­ject was stag­ger­ingly ambi­tious, even for an Edwar­d­i­an Brit­ish fish­ing industry that led the world. Almost £450,000 worth of orders with tight deliv­ery dates were quickly placed with, and then turned out by, shipyards on the Hum­ber, Tyne and Clyde. Whilst the earli­er box­ing fleets had been built up over sev­er­al years, this one was ready to sail with­in five months.
As dawn broke on that morn­ing in Feb­ru­ary 1906, the crews were already trick­ling through the wide wet sub­way below the busy rail­way that sep­ar­ated the dock from the war­ren of red brick streets and ter­races on the south­ern side of Hull's Hessle Road dis­trict. For a time, the trickle approached a tor­rent as men, young and old alike, dodged around crowded carts, rul­lies and rail­way wag­ons full of fish, and hur­ried past busy bar­row-boys who were bust­ling boxes and bar­rels beneath the gaunt struc­ture of the fish mar­ket. All headed for the lock pit area, anxious to watch the spec­tacle and catch a last glimpse of fam­ily and friends going to sea.
The district's women were no less inter­ested or anxious about all that the fleet's sail­ing entailed, but few watched. Women might wel­come you home from the sea but it was con­sidered bad luck on Hessle Road to be seen off by a female; farewells had already been made in the crowded 'sham fours,' the ter­raced houses, across the rail­way track. Mean­while, men and boys gathered on the windswept quays below the big skies by the broad, brown mud waters of the Hum­ber estu­ary to watch the fleet sail. Because of the sheer num­bers of ves­sels involved, some trawl­ers had already passed through St Andrew's lock gates and out into the Hum­ber road­stead by the time crowds gathered. Almost every ves­sel in the fleet had a Shakespeari­an name—Hellyer named all his ships after the Bard's char­ac­ters— and indeed it seemed that an armada of almost Eliza­beth­an extent was tak­ing leave of the port.
The sail­ing of a full box­ing fleet was a far from com­mon occur­rence, for these fleets might remain at sea for years. Indi­vidu­al trawl­ers returned to port every five or six weeks when coal, pro­vi­sions and crews were exhausted, but as they left the fleet other ves­sels took their place, refuelled, revictualled and ready to resume their unre­lent­ing trawl. Unless weath­er con­di­tions were extremely dire, these fleets kept a con­stant pres­ence on the far-flung North Sea grounds, try­ing to meet the demand for fish, not only of London's Billings­gate but also of count­less other fish mar­kets across the coun­try. By the Edwar­d­i­an epoch white fish was a work­ing class staple. The fish and chip shop had emerged in the pre­vi­ous cen­tury to help sus­tain Britain's rap­idly grow­ing towns and cit­ies; fish and chips were the first fast food of the new indus­tri­al age, almost a mari­time McDon­alds but without the cor­por­ate dimen­sion.
No one owned the fish these fleets sought; the rich grounds they worked had never been appro­pri­ated. The trawl­er crews pur­sued a common—if fugitive—maritime resource. Deep-sea fish­er­men were—and are—amongst the last people in the world to hunt for a liv­ing. Sea fish may be the­or­et­ic­ally free for the tak­ing but the real costs of catch­ing them have always been con­sid­er­able, to be coun­ted not only in terms of cap­it­al expen­ded on ves­sels and gear but also in pounds of flesh and blood—in fishermen's lives. Through­out the twen­ti­eth cen­tury, fish­ing remained Britain's most dan­ger­ous industry. Stat­ist­ics sug­gest it was four times more dan­ger­ous than coal min­ing. Those whose busi­ness was steam trawl­ing often toiled in great seas, far from the com­forts of fam­ily and home, in cold grey waters and every sort of weath­er to haul a har­vest from the deep. They faced the full force of both nat­ur­al and human agents of destruc­tion. In just twelve years, between 1906 and 1918, no less than twenty-two of the fifty or so trawl­ers built for this Helly­er fleet were lost, either to the sea or to enemy action in the Great War. Bereave­ment remained an all-too-com­mon bur­den for the fam­il­ies of fish­er­men through­out the twen­ti­eth cen­tury.
In much the same way as South Georgia's whal­ing sta­tions have been aban­doned, Hull's once proud St Andrew's Dock—periodically in the media spot­light when at the wrong end of a series of Cod Wars with Ice­land between the 1950s and 1970s—has also slipped into an obsol­ete obscur­ity, long since for­saken by Hull's fish­ing ves­sels, a fleet no longer even a shad­ow of its former self. Even before the Falk­lands War this dock, once home to the greatest dis­tant-water trawl­ing fleet in the world, had also been deser­ted, partly filled in, and many of its sur­round­ing build­ings left derel­ict or demol­ished, bull­dozed into obli­vi­on dur­ing the 1960s and 1970s like so many of the adja­cent ter­races. Huge swathes of the strong Hessle Road com­munity, of a dis­tinct indus­tri­ally mari­time way of life, have been dis­persed to the winds.
All phys­ic­al trace of the once proud Helly­er fish­ing fleet had dis­ap­peared many years before the dock's decline; with one excep­tion. Amongst the mul­ti­tude of trawl­ers tak­ing the tide in the Hum­ber on that dis­tant day in 1906 was the newly built steam­er, Viola. Whilst all her sis­ters have long since been scrapped or else sunk in storms or war, this one seem­ingly insig­ni­fic­ant craft has sur­vived against all the odds. In 1982, this self-same ves­sel lay in Cum­ber­land Bay, await­ing the Argen­tine scrap metal mer­chants' cut­ting torch. Today, accom­pan­ied by the former whalers Albatros and Pet­rel, she still lies at the ruined town­ship of Grytviken, South Geor­gia, part of a ghost fleet from a for­got­ten age.
Through­out most of a career which encom­passed almost the entire length of the long Atlantic, through both war and peace, this little ship, this former Hull trawl­er, remained an every­day work­ing ves­sel, just one of many appar­ently mundane, most cer­tainly unsung, craft used by mar­iners of all per­sua­sions to earn their liv­ing in a vari­ety of ways across the world's wide oceans.
Unlike the mighty HMS Dread­nought which was launched three weeks later, Viola was built not for fight­ing but for fish­ing, for the prof­it­able and unend­ing task of tak­ing fish for the Lon­don mar­ket; but the out­break of the Great War in 1914 changed all this forever. Hast­ily requisi­tioned and armed by the Admir­alty, the little ship and her crew of fish­er­men sailed off from Hull straight into the fogs and uncer­tainty of a grim war at sea, and to more than four years of voy­aging through waters infes­ted with U-boats and mines. HMT Viola, as she was by then known, steamed thou­sands of miles patrolling Britain's mari­time front line, far more than any single dread­nought, and her crew had numer­ous engage­ments with the enemy; the little armed trawl­er sur­vived everything the enemy and seas could throw at her. But the return of peace took her in new dir­ec­tions, to dif­fer­ent waters, and Viola has yet to return to her home port from that Great War voy­age.