Mar­tin O'Scannall has enjoyed a love affair of more than forty years with his 1913 gaff cut­ter Saunt­ress, begin­ning with her rebuild and cul­min­at­ing in the glor­ies pic­tured here. Below is his account of her sojourn in a boat­yard at Brent­ford on the Thames in west Lon­don, in the early 1970s: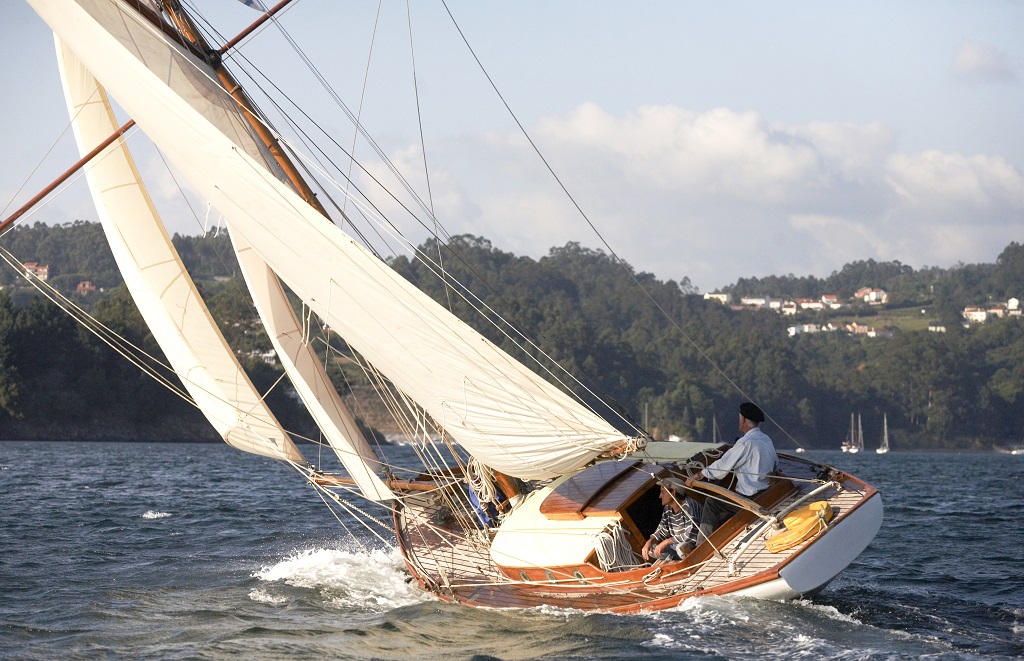 A lovely Irish expres­sion that one, in full "seven broth­ers and all handy with a tool­box," quoted in Sneem, Ken­mare River, County Kerry; but we were not there yet, not by a long chalk.
Instead we were in the seedy pur­lieus of West Lon­don, Brent­ford Dock to be exact, one of those havens which had escaped the developers. For behind a high wall lay John Woolley's little empire, a boat­yard, the boats in ques­tion being nar­row-boats with their float­ing gypsy-cara­van liv­ery, and bey­ond that the green­ery of Syon Park, from which the screech of an invis­ible pea­cock could occa­sion­ally be heard.
And the lap and gurgle of the Grand Union Canal or, more like, the occa­sion­al burp, as some­thing nasty rose from the depths. For only by the wild­est stretch of the ima­gin­a­tion could this be called a mar­ine envir­on­ment; but at least there was water.
And here, very much in bits, was Saunt­ress, vic­tim of a par­tic­u­larly bad attack of glee­ful destruc­tion, a bare hull open to the skies, her owner slightly aghast at the enorm­ity of the deed.
But the destruc­tion, though bru­tal, was neces­sary.
A hogged sheer is no thing of beauty so the first job was to rem­edy that. A bare hull, as Saunt­ress now was, is a rel­at­ively flimsy thing. A jack, or more cor­rectly in this case an Acrow prop, exerts enorm­ous power, quite enough to force the top­sides back to some­thing approach­ing their ori­gin­al pos­i­tion. The rest can be, and in this case was, done by plan­ing back the irreg­u­lar­it­ies in the sheer. Now Saunt­ress once again had a sheer sweet to the eye.
To keep it that way, six pairs of sawn oak frames sup­ple­men­ted her obvi­ously inad­equate steamed tim­bers. Work­ing oak with a prun­ing saw, fit­ting, refit­ting and refit­ting again until the bevel was per­fect, was not a quick job but it would not be done again, so it had to be right. And mani­festly was right, for they have never moved since.
The next step was to attack the ten­der­ness. Here the keel, which was iron, was dropped six inches and the gap filled with con­crete. This slightly eye­brow-rais­ing approach looks less out­land­ish when one con­siders that con­crete was even, if not espe­cially, used intern­ally in qual­ity work, wit­ness Claud Worth's Tern III. In any event it stiffened the boat up and so, in a sub­sequent refit and a moment of rel­at­ive prosper­ity, the old iron keel was removed, recast in lead and refit­ted minus the con­crete.
That done, the more pleas­ant task of recre­at­ing Saunt­ress as I wanted her to be in my mind's eye could begin. For this was no faith­ful res­tor­a­tion of the ori­gin­al, except Wright's lovely hull. Instead what kind of cabin, what kind of interi­or lay­out, what sort of deck, what kind of cock­pit, were simply a mat­ter of what would work best, be strongest, and look the part. And look the part meant be in keep­ing with a yacht of Saunt­ress' age and peri­od.
Strength came from new oak car­lins, tie-bolted to the beam shelf, massive lodging knees bolted to the main beam and car­lins for­ward, and two new oak beams at deck level aft, where the cabin was to divide from the cock­pit.
More strength came from what might be called a com­pos­ite con­struc­tion: steel in a wooden ship in the shape of a long steel girder across the floors, lon­git­ud­in­ally, with web frames wel­ded on and bolted to the new oak frames, the whole treated against cor­ro­sion.
Before a deck could be laid a decision had to be made on what kind of cabin. Not too high, for the quest for stand­ing head­room had pro­duced the ugly dog­house, now con­signed to the rub­bish. Nor neces­sar­ily did it have to be the con­ven­tion­al rect­an­gu­lar box. So the decision was made that the for­ward end should be roun­ded, New Zea­l­and yacht style (of the peri­od) on the basis that it was pretty, and more spuri­ously that it offered less res­ist­ance to a wave break­ing aboard.
That was built, in teak. The decision to use teak was simply that it was the best tim­ber avail­able, and by best is meant the most dur­able, pleas­ant to work and pleas­ant to the eye.
The deck was more prob­lem­at­ic. Almost all res­tor­a­tions or rebuilds use a ply­wood sub-deck, but I dis­like ply and ques­tioned the rigid­ity of the mater­i­al in a wooden hull, which by its nature flexes a little in a sea­way. So instead Columbi­an pine, which is extremely light, was laid as a sub-deck. This was fastened with sil­ic­on bronze grip-fast nails, and splined. A liquid rub­ber com­pound was painted over and a teak deck laid over that, screwed down with mar­ine grade stain­less steel screws, plugged.
The scant­lings of the teak were such that it could wear over the years without dis­tor­tion. This deck was not swept as, say, in a Fife boat, but laid straight, which I prefer. It gives a touch of the work­man-like or sinewy strength which is the hall­mark of Saunt­ress. It has las­ted some 40 years and looks as hand­some as ever.
The first cock­pit was less of a suc­cess as, amongst other things, a large and heavy Cov­entry Vic­tor single cyl­in­der dies­el engine had to be accom­mod­ated under the bridge deck; but when that, and its successor—a Japan­ese engine—were removed and aux­il­i­ary power dis­pensed with, a teak, once again self-drain­ing, cock­pit was installed, with a small well which ensured that if a green sea did come aboard, as happened once, the water could drain safely away. Teak wash­boards replaced cabin doors.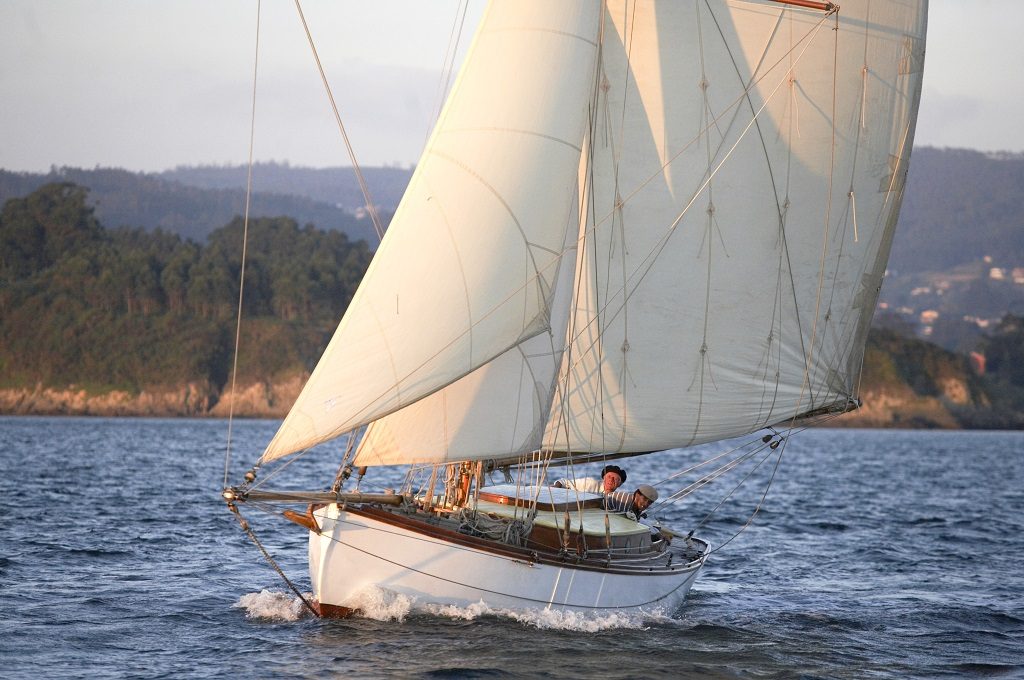 The boat is sailed single-handed or two-handed, so when it came to fit­ting out the interi­or she would need to sleep two, or very occa­sion­ally three. She was to have a good gal­ley, and a sep­ar­ate chart table and seat for chart work, and once again she had to look of the peri­od, some­thing of the Edwar­d­i­an yacht. (That incid­ent­ally was one reas­on for pre­fer­ring the splined sub deck, no expanses of white painted ply­wood to stare at from one's bunk, but instead a prop­er deck­head.)
She also had to accom­mod­ate a six-foot crew in com­fort when he or she was sleep­ing below. That meant a settee berth in the main cabin of six feet six inches. For this and quite a few other details I had Don­ald Street's The Ocean Sail­ing Yacht to thank. For I had plans for little Saunt­ress when I was done.
Thus, the lay­out as you enter the cabin is as fol­lows. To port is the chart table and navigator's seat. All intern­al join­ery, unless oth­er­wise spe­cified, is var­nished mahogany, in places inlaid with ebony, an expens­ive and strange wood, but undeni­ably hand­some. Next came the 6ft 6in berth, extend­ing when needed to a double, end­ing con­veni­ently under the main beam, and sep­ar­ated from the for­ward part of the ves­sel by a tongue-and-groove cream painted pine bulk­head. Above is a fiddled shelf for such things as the Walk­er log, bin­ocu­lars and GPS, and under the navigator's seat lives the sex­tant.
Oppos­ite the nav­ig­at­or, with small fold­ing seat set into the teak steps, is the gal­ley: double sink, Taylor's stain­less steel oven, gen­er­al gal­ley stow­age. Bey­ond that, and depart­ing from the norm, is a settee, with octa­gon­al swing table, bey­ond which a side­board, and facing the main bunk a char­coal stove. Glasses (whisky) and bottles stow behind the settee, and the side­board houses the baro­graph and main cabin oil lamp.
This has the ines­tim­able twin advant­ages that it can be turned low, for sail­ing at night, and to keep the chill off the air at anchor. Elec­tri­city is kept to the min­im­um, powered by solar panel and used for the chart table, gal­ley, nav­ig­a­tion lights and com­pass light. This arrange­ment means that the nav­ig­at­or does not dis­turb the sleep­ing crew, and the cook dis­turbs neither.
For­ward and to star­board is what has become the owner's bunk, private and undis­turbed there, with the hanging lock­er and heads oppos­ite, and right up for­ward, stow­age for sails.
This, approximately—for some of the changes came later—was the lay­out and struc­ture of the yacht as she emerged from John Woolley's yard after twelve years. And in this form she has been sail­ing ever since (save the dis­card­ing of the engine which will be dis­cussed later).
Her rig is the clas­sic gaff cut­ter arrange­ment, with top­sail and increas­ing large sail ward­robe, with Wyke­ham-Mar­tin furl­ing gear on jib and fore­sail, and peak and throat hal­yards led back to the cock­pit for ease of hand­ling when single-hand­ing. She now also car­ries a square sail and yard, the lat­ter per­man­ently aloft and the former sent up on three hal­yards. Claud Worth describes this arrange­ment in detail in Yacht Nav­ig­a­tion and Voy­aging.
We were ready to go back to sea.