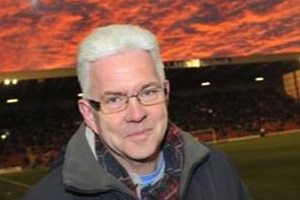 Our first book had sold out a few years before, and we had the feel­ing it was time for a new edi­tion in our now-stand­ard robust soft­cov­er format, and that there remained an unplumbed audi­ence among people who, though per­haps not habitu­al read­ers of sail­ing books, would appre­ci­ate the art, writ­ing and social his­tory con­tained with­in it. We sus­pec­ted the York­shire writer, poet and broad­caster Ian McMil­lan was just such a per­son, and were delighted when he agreed to provide a new Fore­word to Holmes of the Hum­ber; here it is:
Words Writ­ten on Water
Wel­come to a remark­able and many-layered book; to read it is like gaz­ing into water that is appar­ently still but which, as you stare into it, begins to move. It swirls, it seems to deep­en, it seems to con­tain stor­ies that flit around like fish and some­how, in ways that you can't fathom, it soaks you with tales and memor­ies that you can never for­get.
On one level this is the story of a man called George Holmes, who was born in 1861 and died in 1940. He was a busi­ness­man from Hull who was one of those people who grabbed every oppor­tun­ity for learn­ing and advance­ment that was on offer in those power­houses of the late nine­teenth and early twen­ti­eth cen­tur­ies. He was a sail­or. He was an artist. He was a writer. He was an invent­or, devel­op­ing the kind of boat known as the Canoe Yawl and he was a founder mem­ber of the Hum­ber Yawl Club, which was based in Brough but had an influ­ence that stretched across the world.
These are the facts, but this book is about much more than that single, if sin­gu­lar, life. Because of George Holmes and his quest­ing intel­lect The Hum­ber Yawl club became many things to many dif­fer­ent people. It was a self-help group, an engine of indus­tri­al devel­op­ment, a haven for auto­di­dacts and people who liked to dis­cuss and argue and make points, and a place where ideas could be floated and tested to see if they would sink or swim. It reminded me of our little con­ser­vat­ory at home when I was a boy, where my dad, who was in the Royal Navy for two dec­ades, would sit with his mate Jack Green­s­mith and tie fish­ing flies and mend things like clocks and fry­ing pans and set the world to rights and com­pose let­ters to the Trout and Sal­mon magazine and talk about the open sea. They would have enjoyed the Hum­ber Yawl Club and the club would have wel­comed them with open arms as long as they had some­thing to say and some­thing to make.
I real­ise that I'm being a bit poet­ic here in my descrip­tion of the goings on at the HYC and the tower­ing fig­ure of George Holmes but I make no apo­logy for that. This is a poet­ic book writ­ten with love and skill; here's the descrip­tion of a first sight of Hornsea Mere: 'Ima­gine gently rolling ground, richly and beau­ti­fully wooded, slop­ing up from the verge of a lake about a mile in length, and ima­gine this wood painted as Eng­lish woods alone could be painted by the unrest­ing hand of nature on a fine Autum­nal day and you have Hornsea Mere as I saw it.' This is Eng­lish nature writ­ing at its best, echo­ing people like Edward Thomas, the sen­tence slop­ing up as you read with the aid of the well-placed com­mas and words that fit exactly to the sense and the shape of the writ­ing, like 'unrest­ing'.
Enjoy this book; enjoy the fact that places like Hull and the sur­round­ing towns and vil­lages have always been Cit­ies (and towns and vil­lages) of Cul­ture, enjoy these vivid tales of vivid people, and gaze into the clear water of the prose, shin­ing in the reflec­ted sun that lights up the sky over the Hum­ber.