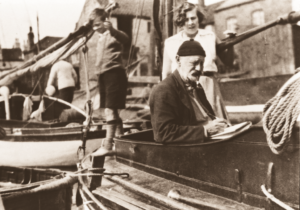 Around the turn of the twen­ti­eth cen­tury the Hum­ber Yawl Club exer­ted a nation­al, and inter­na­tion­al, influ­ence in the world of cruis­ing under sail which com­pletely belied the paro­chi­al hori­zon its name sug­gests. George Holmes (1861–1940) was for dec­ades the lead­ing light in what was a grass­roots social and cul­tur­al move­ment, embra­cing boat design, cruis­ing, writ­ing, and visu­al arts; he recor­ded this milieu in words, draw­ings, and etch­ings, which appeared in the club's journ­als and nation­al magazines of the time, but his extens­ive out­put was never made widely avail­able; not, that is, until I sug­ges­ted to my friend Tony Watts that he write and com­pile the defin­it­ive book on George Holmes and I pub­lish it. As a long-time mem­ber, and the Arch­iv­ist, of the HYC he was bet­ter placed than any­one to under­take the labour of love which was to appear in 2009 as Holmes of the Hum­ber, and whose world­wide suc­cess was the begin­ning of Lode­star Books. Here is Jenny Bennett's review of the book in Wooden­Boat magazine:
In 1940 an obit­u­ary was pub­lished in the Hum­ber Yawl Club Year­book. Its clos­ing para­graph read: 'We shall all have to pass on soon­er or later, but it will fall to few of us to leave a gap so dif­fi­cult to fill in the sphere of our activ­it­ies as did George Holmes, or leave so many memor­ies of kindly acts and unos­ten­ta­tious help to oth­ers.'
George Holmes was born in 1861, the grand­son of Thomas Holmes, founder of a tan­ning firm, which in adult life George would take over from his fath­er. His fam­ily owned a coble at Hornsea in York­shire, which they sailed on the unfor­giv­ing waters of the North Sea. But it was anoth­er form of small boat that would cap­ture Holmes's ima­gin­a­tion and heart. In 1876, at the age of fif­teen, he wit­nessed a regatta of sail­ing canoes on Hornsea Mere. In later years, he would write: 'The impres­sion made upon one school­boy by the brightly var­nished tiny canoes with their cedar decks, gay flags, and swell­ing white sails has las­ted down to the present day… Upon the crisp wave­lets of Hornsea Mere the dainty little craft looked quite in their ele­ment, but thrill­ing tales were told of fierce battles with the swirl­ing muddy tides upon the Hum­ber, of strand­ings upon sand­banks, and of voy­aging on and camps by delight­some for­eign waters.' As Tony Watts writes in Holmes of the Hum­ber, this was to be the 'form­at­ive moment of Holmes's life in sail.' It would lead him, in 1883, to become one of the found­ing mem­bers of the Hum­ber Yawl Club (HYC)—a club that still exists and whose mem­bers share a love of small canoe-type and other yawls—and ulti­mately to do more to devel­op and pro­mote the 'canoe yawl' than any­one other than his friend Albert Strange.
Holmes was an ama­teur design­er of con­sid­er­able abil­ity. He draf­ted fifty-six boats—most of which were built—ranging from, as a boy, a 4ft 8in dinghy to the 3.5-ton, 30ft Oyster, drawn for the Yachts­man Design Com­pet­i­tion of 1899, and the 29ft Onaway aux­il­i­ary sail­er designed for Joseph Bur­ton. He was a pro­lif­ic writer whose pub­lished works appeared in yacht­ing magazines and journ­als as well as on the pages of the HYC Year­book; he was also an artist who was rarely seen afloat without his sketch­book and whose equis­ite sketches were often turned into small but extraordin­ar­ily detailed etch­ings by his own hand; but above all he was a sail­or whose chal­len­ging home waters of the Hum­ber, Trent, and Ouse cre­ated in him a water­man of con­sum­mate skill and know­ledge with a taste for unpre­ten­tious cruis­ing in small boats.
Much of his pro­lif­ic writ­ing and draw­ing has sur­vived and is here repro­duced by long­time HYC mem­ber Tony Watts. The col­lec­tion is at once broad and intim­ate and, while Watts offers link­ing pas­sages and intro­duc­tions to the chapters, for the most part the book's voice is that of Holmes—light, informed, easy, at times self-deprec­at­ing, and always unas­sum­ing. At first glance his cruis­ing is unim­press­ive—week­ends up the Hum­ber, weeks in Hol­land and Scot­land—but the tidal cur­rents on his pre­ferred rivers could reach up to five knots, the tidal ranges up to twenty feet, and between 1883 and 1912 Holmes's boats were never longer than twenty-one feet, and always engine­less.
His voy­aging was not without incid­ent: He went aground, dealt with foul tides or recal­cit­rant com­mer­cial boat­men, battled rough seas and inclement weath­er, fell over­board, waded through mud tow­ing a dinghy behind him, was rammed, dis­masted, holed, and gen­er­ally buf­feted about. And yet his voice is never com­plain­ing nor without its sense of humor.
Just as his first love was for small boats, so the beauty of his nar­ra­tion is in the small detail. Typ­ic­al is this aside, writ­ten in 1906: 'The mate could not quite make out why they stayed at Vol­en­dam when there seemed to be so much more pic­tur­esque stuff at Edam, with appar­ently less smell from the canals. He said they were a bit 'niffy', and even I could tell that there was some­thing a bit unpleas­ant to the olfact­ory nerve. How­ever, they all looked very bloom­ing and healthy, inhab­it­ants and artists alike, so evid­ently whatever there was did them no harm.' And this, of a mouse in 1919: 'He was a most ungen­tle­manly anim­al whose motto evid­ently was "what I can­not eat (and there seemed to be des­per­ately little that he didn't try to eat) I can at any rate des­troy." When it was neces­sary to search for any­thing in the dim recesses of the "spare berth", the amount of gnarled and chavilled paper almost sug­ges­ted the pres­ence of an army of mice, and before very long we were liv­ing an uncom­fort­able exist­ence, with all our fresh pro­vi­sions removed from their prop­er place in the grub lock­er and hung in basses from the upper parts of our dwell­ing place in the vain hope of pre­serving them from his atten­tions.' No men­tion is ever made of the mouse's even­tu­al cap­ture or depar­ture.
The cruis­ing fea­tured in Watts's col­lec­tion spans the years from 1901 until Holmes's death in 1940, but for the read­er the most inter­est­ing are the earli­er voy­ages when Holmes is without engine. Evid­ence of the com­ing motor­ized era is all around. Even as he par­takes in the last days of sail, Holmes can­not help but hint at a nos­tal­gia for the past. In Ams­ter­dam, July 1906, he writes: 'Sev­er­al changes struck us at once. The Dutch do not stand still… A large rail­way bridge across the canal below Zaan­dam was also in course of con­struc­tion. What impressed us per­haps more than any­thing else was the enorm­ous increase in the num­ber of power boats. Many even of the ordin­ary sail­ing tjalks appeared to have installed aux­il­i­ary motors, with which they nav­ig­ate without dif­fi­culty the crowded waters in the neigh­bour­hood of the city.'
Nev­er­the­less, as Holmes com­ments, some­times wist­fully, on his chan­ging world the mod­ern read­er is struck by how very much we have lost since. Holmes and his friends have no trouble get­ting their boats car­ried across the North Sea as deck cargo, seem­ingly at a moment's notice—on one occa­sion there are insuf­fi­cient berths on the car­ry­ing ves­sel, and the stew­ard sug­gests that Holmes and his mate sleep in their own boat as she is shipped home. While sail­ing around the Isle of Wight in the sum­mer of 1910 he men­tions sight­ing one or two other leis­ure craft at a time, not the hun­dreds that would be seen today. On the same cruise he and his friends set lob­ster pots from their dinghy—I won­der when an ama­teur last caught a lob­ster in the Solent. Leter 'the big racing schoon­ers all went by us, head­ing out for the Bul­lock Patch Buoy. West­ward, Ger­mania, Cicely, Suz­anne was the order of the pro­ces­sion…' This at least was a sight that Holmes con­sidered extraordin­ary, for he writes: 'they were a sight to make the blood dance.' And again, a few hours later: '…we saw the Blood­hound racing close­hauled under all plain sail and the Sham­rock run­ning with stay­sail and try­sail. A big white barge-yacht moved sed­ately along and the Thor­neycroft [sic] hydro­plane shot like a streak of light­ning across the picture'—wondrous times indeed.
But for all the occa­sion­al spec­tacle it is the very ordin­ar­i­ness of Holmes's sail­ing that makes it so out of the ordin­ary to mod­ern per­cep­tion, that and the depth of the affec­tion that threads through his writ­ings and draw­ings. Of a foul day's sail in 1907 he writes, 'The skip­per has a bad enough time, for the water goes in at his neck and comes out at his heels, but the poor little mate has a worse, for though he keeps dry in the cabin he is pitched about "like a parched pea on a drum head" and has to divide his atten­tion between the buck­et and the things that fall down or are pitched out of the shelves and must be picked up again.' There are long days of scull­ing when the wind fails, or man­hand­ling a tow rope from the canal path, or suf­fer­ing water­logged clothes, or dis­cov­er­ing a much-anti­cip­ated meal gone bad in the lock­er, but never once is there a word of regret or com­plaint. For Holmes, alone or with friends, this was liv­ing, at its best.
Although the bulk of the book is made up of Holmes's voy­age accounts with their sweet pen-and-in sketches and vign­ettes, Watts has also included chapters entitles 'Some Cruis­ing Grounds' in which Holmes writes cruis­ing guides to his favor­ite bod­ies of water; 'Holmes the Artist' wherein some of Holmes's more elab­or­ate etch­ings are presen­ted along with cov­ers for the HYC Year­books; and 'Selec­ted Designs' in which twenty-three of Holmes's design plans are presen­ted.
Inev­it­ably not every part of the book will speak to all read­ers, but there will surely be some­thing for any­one with a love of the water and boat. And equally inev­it­ably there are some miss­ing elements—I was sorry that Watts was unable to offer more insight into Holmes's life and times aside from his sail­ing, and some simple maps to show the geo­graph­ic­al set­ting of the cruis­ing grounds would have been appre­ci­ated, as would the occa­sion­al annota­tion to Holmes's text. Nev­er­the­less, thanks to the inim­it­able tal­ents of its sub­ject, Holmes of the Hum­ber is a won­der­ful volume worth the selling price for the illus­tra­tions alone, and it will surely entice the read­er back to its pages time and again.