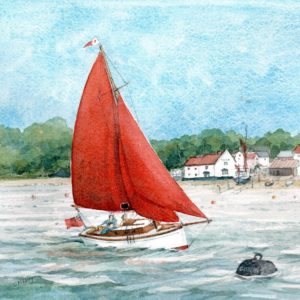 Some­how, and to his incredu­lity, I had never read an Arthur Ran­some book when Peter Wil­lis approached me with Good Little Ship. Nancy Black­ett, the real-life ori­gin­al of the Gob­lin in We Didn't Mean to Go to Sea, was a famil­i­ar sight on the East Coast and clearly much loved, and so must be that book, which I sat down to read forth­with. I'm told it's a very dif­fer­ent read from the other Ran­some tales; it had me in an emo­tion­al arm­lock from cover to cover, so even if you think the Ran­some books don't appeal (I felt this myself, with no good reas­on) We Didn't Mean… is a sure­fire point of entry for read­ers of all ages.
Peter is founder and Pres­id­ent of the Nancy Black­ett Trust which pre­serves the unas­sum­ing little yacht for the enjoy­ment of Ran­some-lov­ers who per­haps have no boat of their own, and his book com­bines the boat's own story, not without its dangers, with a fas­cin­at­ing ana­lys­is of Ransome's lead­ing char­ac­ter John, and by exten­sion Ran­some him­self. Author, broad­caster and sail­or Libby Purves has dis­tilled the mean­ing to so many people of Ransome's book, the Gob­lin, and the Nancy Black­ett in her fore­word to Good Little Ship:
We Didn't Mean to Go to Sea was for me, and count­less oth­ers, the spark of a love affair. As a child I was given other Arthur Ran­some books, and mildly enjoyed the Swal­lows' and Amazons' adven­tures in the Lakes, and the muddy world of Secret Water. Later, already hav­ing sailed the Atlantic myself as a yacht crew and fallen in love with the tall-ships races, I quite enjoyed the treas­ure-hunt­ing of Peter Duck and the fantasy of Mis­see Lee.
But We Didn't Mean to Go to Sea is dif­fer­ent: neither children's play on calm waters in reach of res­cue, nor a pir­at­ic­al fantasy either. It stands alone because every stage of the Gob­lin's acci­dent­al voy­age to Vlissin­gen is delib­er­ate, pos­sible, thrill­ingly solid. It could hap­pen. Every danger on the way is real and famil­i­ar to any­one who sails our Brit­ish waters in a small boat: sea­sick­ness, sand­banks, rising wind neces­sit­at­ing a grit-teethed, pan­icky reef­ing oper­a­tion. There are big ships, wor­ries about nav­ig­a­tion lights, and that uncer­tainty, so famil­i­ar before the days of GPS, as to where you actu­ally are when dawn breaks.
John's anxi­ety about sal­vage and ground­ing is ration­al, not a child's bogey­man fears. The respons­ib­il­ity he takes for his sib­lings, and their vari­ous fear, trust and gal­lantry, make read­ing it at times intensely mov­ing. When, rush­ing through the dark at the helm of the little Gob­lin, the eld­est looks below to see her sleep­ing crew, what fills him is universal—a sense that every lone night-watch keep­er in dark waters can feel with him: 'a ser­i­ous kind of joy'. Who, among small-boat off­shore sail­ors, does not remem­ber the night when 'for the first time crew and ship were in his charge, his alone'? And the ser­i­ous joy of it?
I read the book when I had just star­ted sail­ing, find­ing myself—after put­ting a small-ad in Yacht­ing Monthly—at the bid­ding of a ran­dom set of skip­pers, long­ing to learn, enam­oured of every sail and sheet, entranced by the time­less prac­tic­al­it­ies of rope and can­vas. At work, as a young Today presenter, I would fill in the duller moments dur­ing 'Thought for the Day' dood­ling lay­outs of pos­sible boats on the edge of the script. The Gob­lin was always the mat­rix, the basis of any ideal boat: her ori­gin, as this engross­ing book cel­eb­rates, was dear Nancy Black­ett, which still sails our East coast waters.
When, with my then boy­friend (now hus­band) we bought our first boat it was a 26ft Con­tessa: mod­ern in com­par­is­on to Gob­lin but with the same long keel and squared stern, the grace­ful hull and simple tiller that we instinct­ively trus­ted. We pol­ished our brass lamps, cher­ished the wood­work of the little cabin, and felt the way the chil­dren do in the book: trust­ing a good little ship. We knew that while we were ama­teurs the boat was a pro­fes­sion­al, her design refined over gen­er­a­tions to take the seas with grace.
Later came other boats, big­ger ones, but always we eschewed the mod­ern wide, cara­van-like, light-finned yachts and the sleek racers in favour of solid­ity, the nar­row sobri­ety of hand­holds, heavy keels and a shape made gra­cious by cen­tur­ies of know­ledge. Thus Gob­lin and Nancy Black­ett helped to shape our sail­ing. And for me at least, on many a night pas­sage with an unwel­come fore­cast, the spir­it of the book was a kind of com­fort. I have looked down into a lamp­lit cabin and seen my chil­dren sleep­ing, and my hus­band rolled up off-watch in a blanket but with boots still on, and let them all sleep longer. That ser­i­ous joy means look­ing for­ward to rais­ing the first shore­lights alone and wak­ing them to the good news, as pleased as if you've lit them your­self. It is a joy born of respons­ib­il­ity, of com­pet­ence, of rejoicing in the boat her­self, as she cuts through the waves and leans to the slope of the wind.
Adri­an Selig­man wrote of far big­ger ships, the old square-rig­gers on the great grain race, 'a sail­ing ship at sea is one of God's most patient, yet most stead­fast and cour­ageous creatures'. A little yacht, a humble yacht like Gob­lin, has its share of that glory. And, as Selig­man adds, 'those who live with her, who watch her day by day… these people learn from her, in time'. We all have.