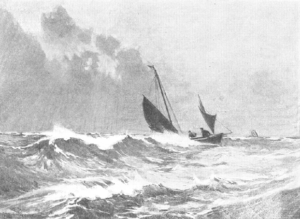 Albert Strange had a gift for what might be styled 'com­pan­ion­able writ­ing;' the abil­ity to take the read­er with him, in ima­gin­a­tion, on his voy­aging remin­is­cences. One of these exper­i­ences is related here, a cruise in the Cher­ub II, "My most beloved boat" as Strange described her in the art­icle, which first appeared in Yacht­ing Monthly in 1911.
We join the little yawl in the Solent, then set off up the Chan­nel to round the Fore­land and enter the mouth of the Thames, then into the Med­way. Strange recalled his youth­ful pleas­ures on board the Gravesend sail­ing baw­leys, one of the most reveal­ing pas­sages in his writ­ings and one which is all the more inter­est­ing in that he had made a stow­boat­ing trip after sprats, in winter, which says much for his determ­in­a­tion to see some­thing of fish­ing under sail and its hard­ships. But why delay enjoy­ment? Let Strange tell the story.
This is part 1 of the yarn which appeared in two instal­ments in The Yacht­ing Monthly in 1911 and described events some years before. The rest of the yarn, and oth­ers, may be found in our book Albert Strange, Yacht Design­er and Artist.
[Click the image to down­load PDF]