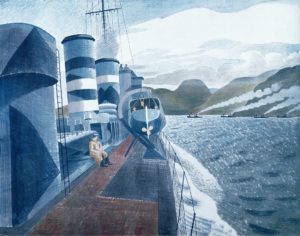 Most people read­ing this have enjoyed lives markedly more com­fort­able than those of their par­ents or grand­par­ents. My own fath­er served at sea when a teen­ager dur­ing World War II, as a stoker and coal trim­mer on tramp steam­ers and later on deep-sea res­cue tugs, on which he helped tow the Mul­berry Har­bours to Nor­mandy for the D-Day land­ings. On St Patrick's night, 17 March 1943, aged eight­een, he spent hours cling­ing to an upturned ship's boat in the waters south of Green­land when the tramp steam­er Kings­bury, in con­voy to Eng­land, was tor­pedoed with much loss of life.
When I was eight­een the closest I came to his exper­i­ence was read­ing Very Ordin­ary Sea­man, J. P. W. Mal­la­lieu's thinly nov­el­ised account of war­time life for the new naval rat­ing, from basic train­ing ashore to Arc­tic con­voy duty. That book, writ­ten while the exper­i­ence was fresh and the war still raged, staked a strong claim on my memory; I was sur­prised to find it out of print in recent years, and delighted when the late author's fam­ily agreed to our new edi­tion.
In a bid to avoid the con­ven­tion­al 'bows-on in heavy seas' cover pic­ture I cast around for some­thing dif­fer­ent, and per­haps more thought­ful, and came across Leav­ing Scapa Flow by Eric Ravil­i­ous, whose work I have always found emo­tion­ally enga­ging; he depicts a des­troy­er much like the fic­tion­al HMS Marsden of the book.
Here is mari­time his­tor­i­an Brian Lavery's Intro­duc­tion to the new Lode­star Books edi­tion of Very Ordin­ary Sea­man:
When Very Ordin­ary Sea­man first appeared in the spring of 1944, V. S. Pritch­ett of the New States­man described it as 'One of the best pieces of doc­u­ment­ary writ­ing that I have come across dur­ing the war.' Eliza­beth Bowen wrote in The Tatler, 'the last chapters of Very Ordin­ary Sea­man did leave me breath­less; and also, feel­ing that we have known too little.' John Betje­man wrote, 'This is so sin­cere and truth­ful, so much both, that you are held all the time… You become part of the com­munity life of the ship, so that des­pite the dangers, bore­dom and dis­com­fort you step ashore reluct­antly.' By any stand­ards this was a remark­able per­form­ance for a writer who was wear­ing the uni­form of an ordin­ary sea­man and sit­ting in a busy, over­crowded naval office 'facing a blank wall and typ­ing myself dry.'
Joseph Per­civ­al Wil­li­am Mal­la­lieu (known as 'Bill' or 'Curly') was not without lit­er­ary exper­i­ence when he wrote the book. He was born in 1908, the son of a Lib­er­al Mem­ber of Par­lia­ment, and edu­cated at pub­lic school and Oxford Uni­ver­sity, where he became pres­id­ent of the Union. He trav­elled widely dur­ing the 1930s and worked as a journ­al­ist. He became a sup­port­er of the Labour Party dur­ing the depres­sion and he had already pub­lished two books before join­ing the navy. When the war began in 1939 he was scep­tic­al about the aims of the Cham­ber­lain gov­ern­ment and registered as a con­scien­tious object­or. Then in 1940, 'when Churchill formed the Nation­al Gov­ern­ment with the full sup­port of the Labour Party and when Ger­many smashed through Bel­gi­um, Hol­land and France and what remained of the Brit­ish army escaped through Dunkirk; my own pre­vi­ous atti­tude to the war seemed irrel­ev­ant and pos­sibly wrong-headed.'
The army was unpop­u­lar at this time, partly due to memor­ies of the last war—practically every­one had a fath­er, uncle or school teach­er with stor­ies of the hor­rors of the trenches. Mil­it­ary train­ing at pub­lic schools did not always help, and Mal­la­lieu was put off by it. 'My memor­ies of the Corps at Chel­ten­ham were still vivid; so I was not going into the army.' Moreover, the army had retreated at Dunkirk, in Greece and in Crete, and largely been saved by the navy. He decided to apply to the navy. At first the seni­or ser­vice turned him down, and it was 1942 before it was ready to receive him.
He joined on 23 Feb­ru­ary that year. He describes the arrival at the train­ing base and his induc­tion into the eso­ter­ic naval cul­ture, the strange but icon­ic uni­form, the vocab­u­lary in which a shore base was one of His Majesty's ships, floors were decks and leav­ing the base was 'going ashore.' As a mature and well-edu­cated man, Mal­la­lieu was nat­ur­ally selec­ted for the CW scheme, which was inten­ded to pro­duce officers (CW stood for the Com­mis­sion and War­rant Branch of the Admir­alty which admin­istered it). Can­did­ates would be chosen at the train­ing bases and then sent to sea for at least three months as ordin­ary sea­men before final selec­tion. Most of them went to des­troy­ers, the smal­lest ships com­manded by reg­u­lar navy cap­tains, who could be trus­ted to apply prop­er stand­ards in assess­ing them. They were also the most act­ive and ver­sat­ile ships in the fleet. Mallalieu's group had warn­ing of this under train­ing, when the Chief Petty Officer told them, '… they're put­ting most of you chaps in des­troy­ers, and it's a pretty rough life.' Joseph Wellings, an Amer­ic­an naval observ­er, wrote that 'Des­troy­ers are always on the go.' And that did not take account of the extra hard­ships of the Rus­si­an con­voys, which Mal­la­lieu describes so graph­ic­ally.
One thing the CW can­did­ates noticed about the lower deck sea­men was the great amount of swear­ing. Richard Wilson, anoth­er CW, wrote, 'They peppered every sen­tence with obscen­it­ies, which they used so often that they became mean­ing­less. A seagull was invari­ably a "fuck­ing great shite 'awk"'. He came to regard the use of lan­guage as almost poet­ic. Mal­la­lieu avoids cen­sor­ship by using terms like 'flick­ing', 'words which no sea­man would deign to use, but which seem prefer­able to blanks.' In a sense the swear­ing was part of the test. Only one of the CW can­did­ates in John Whelan's ship failed to be sent on to the next stage, and that was because he had become too closely integ­rated. A petty officer told him, 'You for­got yer plum from Gieves. You've proved such a good lower deck sea­man they won't give you a com­mis­sion.' Des­pite that, as Mal­la­lieu wrote, 'At sea, at all times, there was much less con­scious­ness of the dis­tinc­tion between officers and rat­ings than there is between man­agers and work­ers in a fact­ory.'
It is not clear which des­troy­er Mal­la­lieu served in. The draw­ing in the frontis­piece of Very Ordin­ary Sea­man is clearly of one of the 'A to I' classes built between 1928 and 1937 in annu­al batches of eight, each with names begin­ning with the appro­pri­ate let­ter of the alpha­bet. The ship shown has two fun­nels, four one-gun tur­rets and a rather light anti-air­craft arm­a­ment. Ori­gin­ally the ships had two sets of quad­ruple tor­pedo tubes, but on most of them the after set was removed to fit a 3-inch anti-air­craft gun, which was cap­tained by 'Wild Angus' in the fic­tion­al Marsden. HMS For­est­er, launched in 1933, has been sug­ges­ted as the ori­gin­al on the grounds that she fought an action sim­il­ar to the one described in the book. But it was a work of fic­tion and Mal­la­lieu used the exper­i­ences of oth­ers, so that is far from con­clus­ive.
The sea­men of HMS Marsden clearly dreaded the Rus­si­an con­voys, and for good reas­on. They began in August 1941, two months after Hitler's inva­sion of the Soviet Union. They mostly sailed from west­ern Scot­land or Ice­land and were routed round Nor­way towards the Rus­si­an ports of Mur­mansk and Archangel. Des­troy­ers had been designed for ser­vice in the North Sea, Eng­lish Chan­nel and Medi­ter­ranean. Now they had to cope with extreme con­di­tions, large waves and the cold, which might cover a ship in ice or snow which had to be cleared to pre­vent cap­size. Atlantic con­voys were hor­rif­ic enough but only the U-boat was a real threat for most of the time. In the arc­tic, con­voys might also be attacked by air­craft based in Nor­way, and there was a con­stant danger from sur­face ships includ­ing the mighty battle­ship Tirpitz. Win­ston Churchill described it as 'The worst jour­ney in the world.'
Mal­la­lieu had prob­ably fin­ished his basic train­ing by about April 1942, and he returned, 'In the late Autumn of 1942, after some months in a des­troy­er on the sea­ways to Rus­sia …' which sug­gests that he could have served in con­voys PQ15, PQ16 or PQ18—he was pre­sum­ably not with the trau­mat­ic PQ17 which was dis­persed with tra­gic con­sequences, and which led to the cycle being sus­pen­ded after the return of PQ18. Most likely it was PQ16 which sailed from Ice­land, as Marsden did. It con­sisted of 35 mer­chant ships and an aux­il­i­ary air­craft car­ri­er with a close escort of five des­troy­ers, an anti-air­craft ship, four cor­vettes, a mine­sweep­er and four trawl­ers. It was sup­por­ted by a group of cruis­ers and a more dis­tant escort includ­ing a Brit­ish and an Amer­ic­an battle­ship and an air­craft car­ri­er. The only des­troy­er in the close escort fit­ting the Marsden's descrip­tion was the A-class Achates, launched in 1929. The con­voy sailed on 21 May to enter almost per­petu­al day­light in Arc­tic waters. That made U-boat action less likely as they pre­ferred to attack on the sur­face at night; but raids by the Luftwaffe were a con­stant danger. Dur­ing the voy­age six mer­chant ships were sunk by air attack, one by U-boat and one by mine.
Mal­la­lieu came back from sea ser­vice and was pos­ted to the Royal Naval Bar­racks at Ports­mouth, liv­ing in slum con­di­tions as described, among oth­ers, by Alec Guin­ness as, '… the nadir of my lower-deck exper­i­ences where thou­sands of men slept, snored, or vomited—their ham­mocks slung three-deep in a cav­ernous tun­nel which served as dorm­it­ory, bomb-shel­ter and lav­at­ory.' Mal­la­lieu asked the train­ing com­mand­er for per­mis­sion to write a book on the navy. He was given ten day's leave, and then,
When I got back I found that I had been appoin­ted Commander's Mes­sen­ger which meant that for eight hours a day, five days a week, I sat in Com­mand­er Reid's office, facing a blank wall and typ­ing myself dry. There was no ques­tion of hanging about wait­ing for inspir­a­tion. There were no pauses for artist­ic tem­pera­ment. I was under 'naval dis­cip­line'. I wrote facing a blank wall and typ­ing myself dry.
On read­ing the first draft Com­mand­er Reid felt that Mal­la­lieu had not kept his prom­ise to show the navy in a pos­it­ive light, but he was soon con­ver­ted. 'Sorry. I've read it all again and think it's fine.' It is a meas­ure of the book's sub­tlety that it can be seen in sev­er­al ways. Mal­la­lieu was always slightly ambigu­ous about how much was fact, how much fic­tion. His pub­lish­ers referred to it as a 'novel' and the Times Lit­er­ary Sup­ple­ment placed it at the top of its fic­tion list, but the author him­self often called it his 'book.' He begins with the state­ment that 'The main events round which this novel is writ­ten have really happened, though not neces­sar­ily to me and not neces­sar­ily in the man­ner or sequence in which they are here described.' He also adds caveats about identi­fy­ing real people among his char­ac­ters, about swear­ing, and about war­time censorship—at one stage a des­troy­er fires blindly into a cloud of smoke and even­tu­ally hits an enemy ship, and one sus­pects that he was pre­ven­ted from men­tion­ing radar at this point. In other words, the book is not to be con­sidered reli­able on events or per­son­al­it­ies, but there is every reas­on to believe it is a very accur­ate pic­ture of lower deck life in a war­time des­troy­er. His pub­lish­er Gol­lancz agreed to take it provided it was cut from 130,000 to 80,000 words, per­haps to meet war­time paper restric­tions. Unfor­tu­nately the com­plete draft does not seem to have sur­vived. He was dev­ast­ated by the first review in The Observ­er by Alan Pryce-Jones. He had 'got bogged down in too much detail' and the book lacked 'ima­gin­at­ive fire'. But soon highly pos­it­ive reviews began to appear in author­it­at­ive peri­od­ic­als.
Very Ordin­ary Sea­man was not alone in the war­time book­shops. One side-effect of the CW scheme was to expose the rich and exot­ic cul­ture of the lower deck to a large num­ber of artic­u­late and well-edu­cated people, and to pro­duce a small but sig­ni­fic­ant body of lit­er­at­ure on the seaman's life. John Dav­ies pro­duced Stone Frig­ate on basic train­ing, and Lower Deck on des­troy­er life. Gor­ley Putt wrote Men Dressed as Sea­men with illus­tra­tions by the great stage design­er Roger Furse. Mallalieu's Very Ordin­ary Sea­man was by far the most suc­cess­ful. It sold 64,000 cop­ies in hard­back and remained in print for many years. Mallalieu's friend Michael Foot con­sidered it was 'a mas­ter­piece' which would be read 'as long as Eng­lish sea­men sail the seas.'
The CW scheme was changed not long after Mallalieu's exper­i­ence. There was no bet­ter test of char­ac­ter than three months on the lower deck of a war­time des­troy­er, but the prob­lem was in assess­ing the results—a cap­tain had far too much to do already without get­ting to know each can­did­ate well, and mostly they passed them unless they had an obvi­ous defect. As a res­ult, fail­ure rates in sub­sequent train­ing at HMS King Alfred near Brighton were often as high as thirty per­cent. Spe­cial­ised train­ing ships were com­mis­sioned, based in the Firth of Forth, to test the CW can­did­ates. Mal­la­lieu him­self failed to qual­i­fy as a sea officer due to sub-stand­ard eyesight—'although through­out my sea time just ended it had been good enough to let me act effi­ciently as a lookout on the bridge.' Instead he went to King Alfred to qual­i­fy as a non-seago­ing 'green striper' of the spe­cial branch of the Royal Naval Volun­teer Reserve, and he wrote a manu­al for naval instruct­ors. He became a Labour MP in the 1945 Gen­er­al Elec­tion and later served as Min­is­ter of Defence for the Navy, where he was noted for his sym­pathy for the lower deck.
It is a little sur­pris­ing that a work of the bril­liance of Very Ordin­ary Sea­man is not bet­ter known today, but per­haps it falls between too many stools. It is a war story writ­ten by a left-wing social­ist. It is not quite fact, not quite fic­tion. By neces­sity it is exclus­ively mas­cu­line. Its focus on the tech­nic­al­it­ies of des­troy­er oper­a­tion is essen­tial to under­stand­ing the story but is unfash­ion­able with a cer­tain type of mod­ern read­er and crit­ic. As a 'naval' book it tends to appeal to a spe­cial­ist mar­ket, though its insights on war­fare and human nature are uni­ver­sal. It deserves to break out of the mari­time ghetto and regain the more gen­er­al read­er­ship of its earli­er days.