From the Loft Floor to the Sea
The Art & Craft of Traditional Wooden Boat Construction
Photographed and described by Christian Topf
Foreword by Hannah Cunliffe, Director, National Historic Ships UK
---
From the Loft Floor to the Sea is photographer and designer Christian Topf's exhaustive visual and verbal journal of the building of the 68ft Pilot Cutter Pellew, by Luke Powell and his team in Cornwall. She is the largest traditional wooden sailing boat to be built in the UK for decades – and at 360 large-format colour pages, this is probably the largest and most gorgeous book ever to record the process. Chris visited the yard at Truro almost every week throughout the build to bring us this mouthwatering production, in which you can almost smell the sawdust, the hot pitch, and the linseed oil.
---
One of the most successful of the Cornish pilot cutters was ­Vincent, built in 1852 for the Vincent family of St. Mawes. At 61ft on the water-line, 68ft overall, and 90ft over her spars, Vincent was a substantial ­vessel ­displacing 74 tons. With a total sail area of 2,290 sqft — her mainsail alone was 1,500 sqft — she had true power, requiring both skill and brawn to sail and ­manoeuvre. She worked for seventy years and finally retired in 1922, ending her days as a houseboat on the ­Percuil River, just a few miles ­upstream from where she had been built.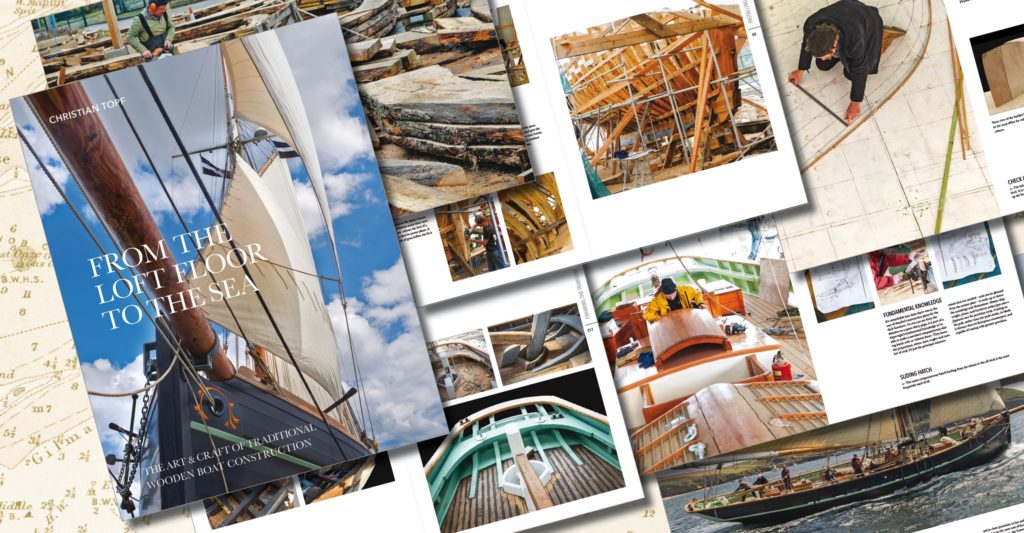 But, while her passing went almost unnoticed, she was not entirely forgotten and, in 2015, when a group of enthusiasts sought a suitable large pilot cutter to build anew, Vincent's plans were unearthed. A non-profit body, Falmouth Pilot Cutter Community Interest Company (CIC), was formed to build her sister ship as a means to preserve the ­traditional skills of boatbuilding and seafaring under sail. In May 2017, 165 years after Vincent was launched, the keel was laid. Three years ­later, Pellew — named after ­Edward Pellew, a great Cornish frigate captain of the late 1700s — set sail from ­Falmouth, ­Cornwall, the latest in a long and distinguished line of West Country pilot cutters. She is a testament to the skill of all who worked on her and gave those who witnessed her launching a rare sense of ­triumphant beauty in a harsh year. This is the story of her build.
---
Graphic designer, photographer, and artist Christian Topf sailed the world's oceans on the environmental-campaigning restored Baltic trader Fri before settling down in Cornwall, England. He began his career in maritime publishing as art editor at Classic Boat magazine before moving on to be art director at The Boatman and The Yachtsman. Founder of the graphic design agency Christian Topf Design and long term associate lecturer at Falmouth University (formerly Falmouth School of Art and Design) Chris continues to be involved in maritime projects and has designed and/or produced many books including Working Sail, Conserving Historic Vessels, The Incredible Journey (documenting the salvage and rebuild of SS Great Britain) and several publications for ­National Historic Ships UK. He lives in Falmouth.
---
You can download a sampler of the book here
ISBN 978-1-907206-53-5; 275 x 215mm, 360pp, full colour throughout. Hardcover with sewn binding, head & tail bands, printed endpapers, matt laminated printed paper covering. Weight approx 1.9kg.
£45.00