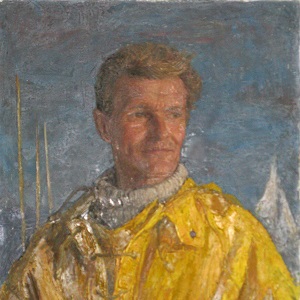 For most of my life my sail­ing was of the arm­chair kind, and in the mid-1970s much of it was in the delight­ful com­pany of Ken Duxbury, a writer whose light touch belies the skill and resource­ful­ness which under­pinned the voy­ages made by him and his wife B. in their open 18-foot ply­wood Dras­combe Lug­ger Lug­worm, in the Greek islands, thence via the French canals and Bis­cay to Eng­land, and later by Ken alone sail­ing and explor­ing in Scilly and the Hebrides. Ken's writ­ing con­veys that unique engage­ment with land and people which is achieved by approach­ing under sail in a small boat.
His three Lug­worm books fell out of print, and com­manded 'silly prices' second­hand; I resolved a few years ago to loc­ate Ken (or his heirs) and see if we could get Lug­worm before a fresh read­er­ship, and more afford­ably. A little sleuth­ing tracked him and B. down to their house on Bod­min Moor, where my wife Steve and I paid them a visit in which we all 'hit it off'; Ken, in his late eighties con­sid­er­ably the seni­or part­ner, was bright as a but­ton and thrilled that any­one remembered him and wanted to reis­sue his books. So this we did, as The Lug­worm Chron­icles—three bijou hard­bound volumes in a slip­case of my own din­ing-table man­u­fac­ture; this was man­dated by the best estim­ate for its extern­al pro­duc­tion approach­ing the cost of print­ing the books them­selves. Back then we were print­ing digit­ally in runs of 100 or so, and a reprint was soon needed. Two hun­dred and fifty sets shot out of the door at £36 before my excel­lent short-run print­er 'went under' and I took the oppor­tun­ity to review Lodestar's pro­duc­tion and dis­tri­bu­tion arrange­ments.
Whilst neither Ken nor I was a fan of omni­bus volumes, it made a lot of sense at this stage of Lug­worm's career to pro­duce one, and so a 500-page robust, flapped, sewn soft­cov­er volume made its appear­ance in a run of 1000, for a ludicrously low £16; and with the move to high­er volume, lower-unit cost litho print­ing, our books were now trade-friendly. Lug­worm has been a steady seller for us and stock is dwind­ling. Sadly Ken died in 2016 at 92, but not before he saw both new edi­tions of Lug­worm appear, and could enjoy the entirely unanti­cip­ated roy­al­ties from them.
My son and I first encountered Roger Barnes at Mor­bi­han Week in 2003, where we had taken our 15ft David Moss canoe yawl, and we were very impressed with his much smal­ler but well set up Tide­way clinker cruis­ing dinghy. We failed to catch his name but we did know from where he hailed and so, for some years there­after, and encour­aged by his only slightly shaggy appear­ance, we referred to him between ourselves as 'Somer­set Man'—something I dis­close here for the first time, in con­fid­ence. Many read­ers will know he is Pres­id­ent of the Dinghy Cruis­ing Asso­ci­ation, and I was very happy that he agreed to write an Intro­duc­tion to the omni­bus edi­tion of The Lug­worm Chron­icles. Here it is:
Every mar­iner enjoys read­ing sail­ing stor­ies, but some­times the events described are so ardu­ous and per­il­ous that we fin­ish the book hop­ing we may never exper­i­ence any­thing similar—such as Shackleton's small boat pas­sage from Ant­arc­tica to South Geor­gia. But to my mind, the very best sail­ing books recount adven­tures we could eas­ily ima­gine hav­ing ourselves. This volume is one of those.
Ken Duxbury and his wife took a stand­ard Dras­combe Lug­ger to the Medi­ter­ranean by road and spent the rest of the sum­mer explor­ing the Greek Islands. The fol­low­ing year they sailed Lug­worm back to England—across the Adri­at­ic, along the Itali­an coast, through the French canals and finally across the Chan­nel. It is an excit­ing story, but not an adven­ture hope­lessly unat­tain­able by the rest of us. No extremes of forti­tude nor absurdly large amounts of money were required. The Duxburys took their time, mak­ing the voy­age in short legs, rarely cov­er­ing more than twelve miles a day. They wanted to explore the coast­line, not to cover the mileage in the shortest pos­sible time.
They made a point of seek­ing out the simple, ordin­ary and work­aday. This is not a book about glam­or­ous yacht­ing. Apart from a brief foray to Monaco, where he failed to win on the gambling tables, Ken shunned the fash­ion­able yacht­ing scene. "If man­kind had con­spired to kill stone dead any last vestige of sea fever in his soul, he could not have devised a more effect­ive means than his inven­tion of the mar­ina," he writes. Instead Lug­worm cruised between lonely rivers, isol­ated beaches and for­got­ten fish­ing ports.
Some read­ers may won­der if they would have been more com­fort­able in a small cabin yacht, instead of camp­ing in the bot­tom of a centre­board dinghy. But that misses the point. Even the smal­lest cabin yacht would have restric­ted the places they could visit. The Duxburys could beach their boat almost any­where, and then haul her out of the water with a block and tackle. They hugged the coast­line, explor­ing vir­tu­ally every bay and inlet, mak­ing many friends amongst the loc­als. A small open boat becomes part of the life of the coast­line. Fish­er­men shared their catch, and gave them advice about what rivers were nav­ig­able; a Neapol­it­an chef sang as he cooked them piz­zas.
I am writ­ing this intro­duc­tion while cruis­ing my own dinghy around south­ern Brit­tany, mean­der­ing between the delight­ful havens and off­shore islands of the Baie de Quiber­on with a group of other small dinghies, row­ing and sail­ing, camp­ing ashore and afloat, and vis­it­ing a dif­fer­ent res­taur­ant in a dif­fer­ent port every night: days of utter uncom­plic­ated con­tent­ment. Only those who have exper­i­enced it know the true delight of cruis­ing in a small dinghy. A cer­tain aus­ter­ity is enforced by the small space, but the bliss­ful sim­pli­city and free­dom of the life­style rap­idly becomes addict­ive. There is some­thing almost mon­ast­ic about escap­ing from the clut­ter of con­tem­por­ary life. Ken Duxbury cer­tainly val­ued this aspect of dinghy cruis­ing. The final part of his tri­logy of books, included in this volume, recounts his adven­tures around the Brit­ish coast. Using his dinghy to live close to the sea­shore, he redis­covered an older and more authen­t­ic way of life, that of the long­shore boat­man and beach­comber. He fished for his food, col­lec­ted fire­wood and even made a tender for his Lug­ger out of drift­wood.
Ken is unfail­ingly plucky and resource­ful. One of the gen­er­a­tion who fought in the Second World War, he retains the lac­on­ic lan­guage of his Navy days—a rough sea is for him a "wet­ting sea." His writ­ing is humor­ous and viva­cious, and illus­trated with his own draw­ings and pho­to­graphs. The draw­ings are a sheer delight: well-observed and eco­nom­ic­al. No one will reach the last page of his three books included in this volume without want­ing to buy a small sea­worthy dinghy and sail in the author's wake—and why not?