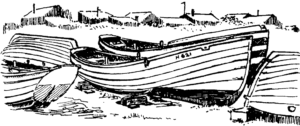 Per­haps the most curi­ous craft which is found in use by the fish­er­men round the coasts of Bri­tain is the York­shire coble [writes George Holmes in 1912]. Along with the Sher­ing­ham boat—referred to and described in a former number—this type is used for crab­bing by the men who work from Spurn Point, and it is hardly neces­sary to add that those who use it swear by it and con­sider it far more suit­able than its smal­ler rival. From Spurn north­wards it is found in increas­ing num­bers. At With­ernsea and Hornsea about equal pro­por­tions of cobles and crab boats are found, but at Brid­ling­ton a crab boat is quite a rara avis, and such a thing has prob­ably hardly ever been seen at Flam­bor­ough, Filey or Scar­bor­ough.
The Hornsea cobles are usu­ally of the square-sterned vari­ety, as are also most of those used from Flam­bor­ough, but at Brid­ling­ton, Filey and Scar­bor­ough the sharp-sterned boats are gen­er­ally in a major­ity.
Of late years the large cobles which "keep" at Brid­ling­ton have run into the square-sterned type increas­ingly. Some of these craft—open save for a fore deck with small cuddy below—are of quite large size, up to 35 x 10, but, of course, such boats are quite unsuit­able to be beached stern first under oars, as the smal­ler ones are. How­ever they sit up on the mud very nice and square when they are aground there or at Whitby. Some par­tic­u­lars were obtained from a coble bought at Filey last Spring (1911) by Don­ald Mas­sey and sailed round by him to the Hum­ber.
He filled in the keel—it required 4 in. or more to make it a straight line, and widened and shortened the rud­der, but in the absence of a com­pet­it­or of sim­il­ar type it was impossible to judge of the effect of these alter­a­tions.
As the lines show, the form is an eas­ily driv­en one, and obtains its lat­er­al res­ist­ance by the deep fore­foot and the long rud­der. The bal­last, stones or shingle in bags, is dumped over­board before a land­ing is made if any sea is run­ning.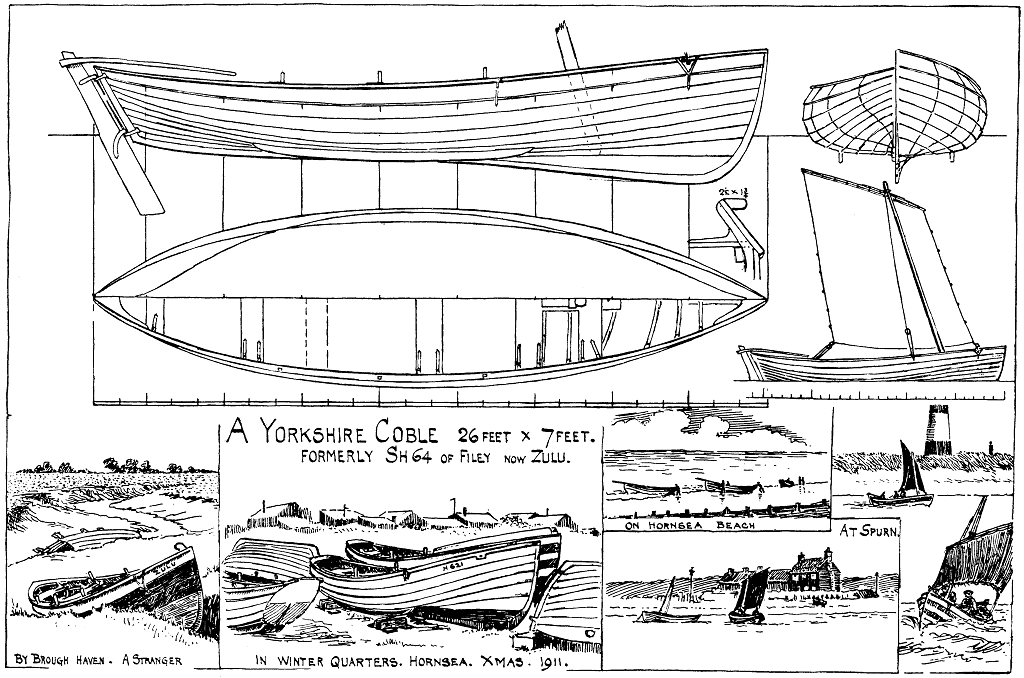 The rig is almost invari­ably a rather low peaked square-headed dip­ping lug sail, with many rows of reef points, and upon occa­sion all of them are used. It is secured to the yard by "rov­ings" instead of a lacing, and is hois­ted by a heavy and well greased rope tie and a tackle hitched out­side the weath­er gun­wale. The mast has a con­sid­er­able rake aft, which has a tend­ency to make the sail more "lift­ing" in run­ning before a hard wind.
The lug is fre­quently used aback, the tack being hauled over to the weath­er bow, but as the "tie" is set fore and aft in the mast the sail can be set on either side, and is usu­ally hois­ted so as to be "full" on what is likely to be the long tack. The oars work on pins (thowls) with a ring and con­sist of two parts, the loom and the wash or blade, nailed and lashed togeth­er. The loom is very heavy inboard to bal­ance the out­board por­tion. The Hornsea men fre­quently carry a jib, the "short mast" (2-reefed sail) being used as a bow­sprit.
Some of the Brid­ling­ton trawl­ing cobles, a fairly large type of per­haps 30 ft. length, set a lug mizzen in addi­tion to the jib, which is pretty gen­er­ally used at that port in com­bin­a­tion with a rather high­er peaked lug—about the same angle as the luff of jib—which it can clear.
Anoth­er vari­ety of coble is the so-called "her­ring mule," which usu­ally car­ries four men and a "cauf " (calf) coble. These are very big boats and are gen­er­ally even more gaud­ily painted than their smal­ler sis­ters.
The coble with her sharp flar­ing bow and flat after­body is prob­ably a "cross" from the Nor­way yawl and the Nor­we­gi­an pram. Like these two types she is built with very wide streaks on grown (fit­ted) tim­bers and sim­il­arly to the lat­ter type she is built on a "Ram" plank, not on a keel. The Flam­bor­ough cobles are mostly used with no keel, merely a fore­foot and side draughts (bilge keels). For get­ting up the beach at the north and south land­ings, a steam-driv­en cap­stan is used, the boats passing over short hard wood planks placed trans­versely. On the flat­ter beach at Filey wheels with low bent axle are used, and for get­ting the boat on to these light­ness of con­struc­tion is very essen­tial. The first job when a new (?) coble comes to Hornsea is to fit her with a keel and keel band, as the boats there are run up or down the beach on "skeats" (? skids). One of these can be seen under the white coble in the centre sketch, and the writer's earli­est boat­ing exper­i­ences had to do with car­ry­ing these wickedly heavy con­cerns round as the boat was moved up or down the beach.