Working Sail
A LIFE IN WOODEN BOATS
Luke Powell
---
Luke Powell has almost single-handedly pioneered a revival in the building of traditional pilot cutters in Great Britain; he also has a flair for storytelling, both when looking back over a rich if unconventional life lived to the full, and when describing the long struggle to win acceptance for the wooden boats on which he established his reputation.
Luke's interest in boats began when clambering over the rotten hulks then mudbound in the backwater creeks of his Suffolk boyhood. Aged nine, he set sail with his family for the Greek islands. From then on the sea was his school. After an apprenticeship as a shipwright restoring Thames barges, he returned to the Mediterranean and the nomadic life of a journeyman boatbuilder. In due course he acquired a French girlfriend – the first of many long-suffering partners in his adventures – and Charmian, a 75-year-old cutter. In 1990, with a baby son on board, he sailed Charmian up the Helford River in Cornwall, little realising that seven years later this would become the home of his boatbuilding business, Working Sail.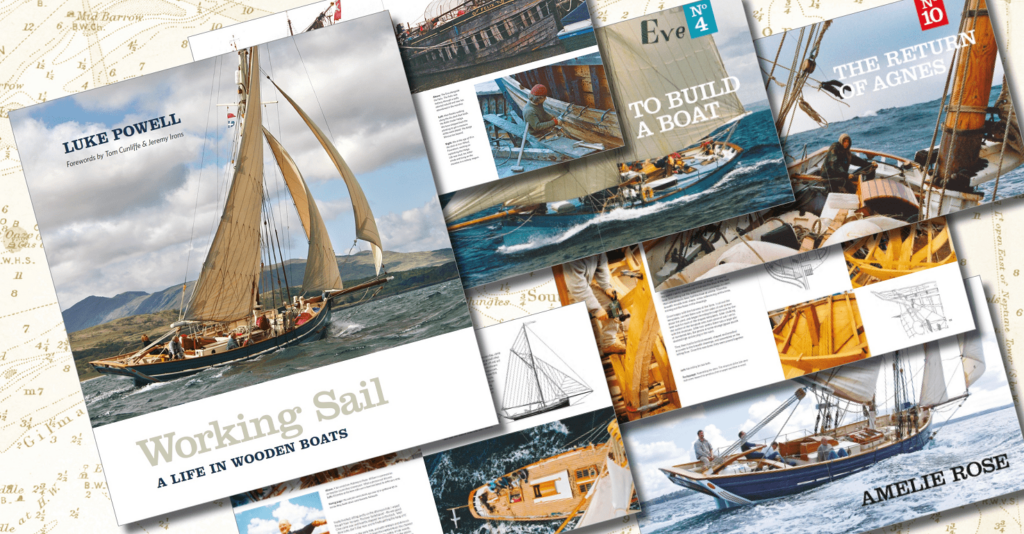 Luke's arrival in England coincided with the renewal of interest in traditional boats. Having stumbled on a book about Scillonian pilot cutters, he vowed to build one from scratch. Risking what little money he had on buying timber, he built Eve by himself – almost with his bare hands. Success came gradually, yet to this day remains underpinned by a passionate belief in skills, craftsmanship and values that cannot be quantified in terms of money. Other boats have since been launched into the Helford – Lizzie May, Agnes, Hesper, Ezra, Tallulah, Amelie Rose, Freja – whose names are a rollcall of some of the most admired boats to have recently been built in Britain.
Working Sail was first published in 2012; since then Luke and his team have built the 65ft Falmouth pilot cutter Pellew, the process being recorded in Christian Topf's visual and verbal diary From the Loft Floor to the Sea.
MEDIA – Contact us for a comprehensive Press Kit
ISBN 978-1-907206-65-8; 265 x 240mm, 240 pages, profusely illustrated in colour & monochrome, printed on good quality matt coated paper. Sewn binding with head & tail bands, printed endpapers, hard cover with matt lamination.
£40.00